Disclosure: This post may contain affiliate links, meaning we get a commission if you decide to make a purchase through our links, at no cost to you. Please read our disclosure for more info.
An air mattress can be handy for last-minute overnight guests, camping, or sleepovers. It offers additional comfort, support, and convenience than traditional mattresses. Along with working as an extra bed, air mattresses are suitable for communal living situations and tight places.
Well, air mattresses are available in various types, shapes, and qualities. Since there are several types of mattresses, choose the one that's right for you, depending on where you'll use it and what features you need. Choosing the right one can be the key to assure a sound night's sleep. So, if looking for a complete guideline on purchasing a perfect air mattress, follow this article.
What Makes Air Mattresses So Popular?
Air Mattress is also known as an inflatable mattress that is basically made of plastic, vinyl, or rubber fabric. This mattress is not like an innerspring mattress, memory foam mattress, and any other regular mattress. It requires air as a means of support, which will offer different levels of comfort.
Air beds are fixable enough, and they'll let you pack them down when you're not using them. This bed can be made in different ways, and the air bed can be inflated or deflated. Due to air mattresses, easy maintenance, and versatile usability, it's mostly used for camp-related activities.
When it's about exotic trips, most people go for sub-tracks because it works as a tiny home for campers. If you also have a suv and are preparing for a trip, an air mattress can be your best friend. Taking air mattresses for car suv truck bed camping can probably be the only best thing that you'll never regret later. It's easy to use, weightless, doesn't take lots of space, and provides a bigger and comfortable sleeping space.
Guide to Choosing the Right Air Mattress for Your Money
Whether you're buying an air mattress for casual or regular use or a trip, you cannot just pick a random one. To enjoy the advantages to the fullest, you must have to review many things. You have to consider things like body weight, budget, mattress comfort layers, pressure relief system, etc. Here we're presenting these and other factors elaborately, have a look:
1. Types
When it's about choosing an air mattress, the first thing you have to give attention to is the type. You'll find different air or blow-up matters; all of them offer different types of features, advantages, and disadvantages. Here are some different types of air mattresses:
Raised Mattress – This type of mattress pretty much looks like a conventional mattress, and they are easy to carry. A raised bed is primarily useful to sit on uneven surfaces or the ground.
Convertible Air Mattress – Convertible air mattresses can work for you like a piece of furniture. This blow-up mattress will offer more comfort when you use it for sitting rather than lying down.
Self-Inflatable Air Mattress – Self-inflatable air mattress can be useful for all types of action. You can use it for both sitting and sleeping, and you can use it at home and for camping too.
2. Size
The second thing you have to consider is the size of the air mattress. You'll find air mattresses from twin size to king-size. What will be the ideal mattress size for you completely depends on where you'll use and why you'll use it. Here we're going to show the size of all types of air mattresses through a table.
| | | | |
| --- | --- | --- | --- |
| Name | Length | Width | Height |
| Twin Size | 75 | 38 | 7-25 |
| Twin XL Size | 80 | 38 | 7-25 |
| Full Size | 74 | 54 | 7-25 |
| Queen Size | 80 | 60 | 7-25 |
| King Size | 80 | 76 | 7-25 |
| California King Size | 84 | 72 | 10-25 |
We've outlined all types of air mattresses with their length, width, and height. Now you have to choose the best budget mattress depending on your usability needs.
3. Material Quality
Material quality is another crucial thing you have to consider while getting an air mattress. Choose a mattress made with PVC and supportive interior components like air coils and chambers. An air mattress with memory foam or a softer velveteen topper can ensure a super comfortable sleeping experience. Also, make sure the mattress is made with waterproof material, so it can endure outdoor activities.
4. Pumping System
When it's about air mattresses, the pumping system is an essential thing you need to be concerned about. Getting a mattress with a built-in pump system is the first recommendation. You can get an air bed with a built-in foot or electric pump system. When you want to get an air mattress with self-inflating, pumping will make your inflating and deflating effortless.
5. Sleeping Convenience
Sleeping convenience is directly related to comfort level, and comfortness is related to thickness. Using a thicker air mattress will significantly help to make your sleep more comfortable than sleeping on a thinner one. A thinner air bed will interrupt your sleep by creating squeaking sounds. Therefore, while buying an air mattress, try to get a thicker one with a topper to ensure sound sleep.
6. Weight Support
If you are about to purchase an air mattress, you have to consider the weight support system. A good air bed should distribute your weight and provide you comfortable support. If you want to know how much weight an air mattress holds, it can be up to 300 lbs. Always check the weight support of an air bed before getting one.
7. Air Holding Ability
When you buy any regular mattress, there is no need to worry about whether the bed holds you up overnight or not. But when it's about an air mattress, you must consider the air holding ability. The air will lift you from the ground, so the air-holding ability needs to be durable enough to withstand any challenging situation. When you are living or going camping in cold weather, you need to ensure the bed will hold air as much as possible.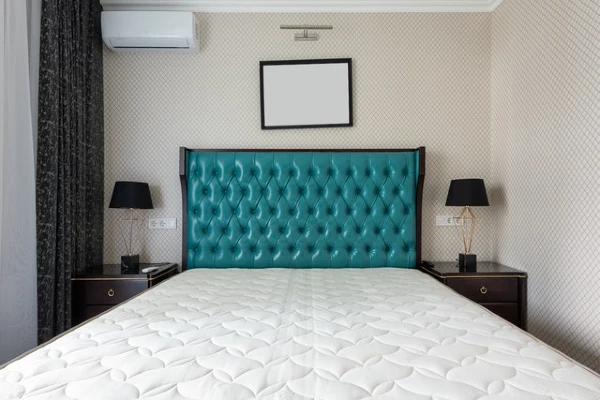 8. Pet Considerations
You have to consider many things if you're a pet lover and want to keep the pet with you while sleeping on an air bed. Most of the pets (cat and dog) have strong and sharp teeth and claws which can damage the mattress. So you have to choose an air bed made with a solid material which can withstand pets' teeth and claws' stuff. You'll also find air mattresses specially made for pets with high-quality materials and a proper comfort system.
9. Warranty / Customer Service
Since most of the air mattresses are worth repairing, you also need to contemplate the warranty or customer service as well. Therefore, give your attention to the warranty and also the reputation for providing customer service. Although, you will not find a warranty facility in every air mattress. Most of the time the warranty facility is attached to mattresses that are high-priced.
10. Other Features and Price
You can get an air mattress with many additional features. You will find features like LED light at the bottom or edges, USB ports, and even a sensor. These features may not be essential to have on an air bed, but they can be useful, and they will cost you more than usual.
At last, an essential thing you have to consider while purchasing an air bed is the price. The ideal air bed price range should be $50 to over $450. However, getting an air bed based on your personal preferences would be the best option.
Final Thought
Choosing the right air mattress is not easy as counting numbers. The type of air bed you choose will significantly impact your sleep needs and comfort preferences. Therefore, considering the facts like size, shape, materials, pumping, weight is the must-do thing.
Considering the facts we've mentioned will be the key to making a choice you'll be happy with. We've tried to include the facts or purposes that will meet everyone's desires and needs. Last but not least, always determine your own purpose and also set a budget that will fit your pocket.