Disclosure: This post may contain affiliate links, meaning we get a commission if you decide to make a purchase through our links, at no cost to you. Please read our disclosure for more info.
Looking for some stylish and creative ideas to light up your living room? Look no further! Living room lighting is crucial in creating a cozy and inviting atmosphere, regardless of the activity. Whether it's movie nights, reading sessions, or board games, your living room lighting should cater to all your needs.
In this blog post, we've gathered 24 breathtaking lighting design ideas to transform your living room into a modern and elegant space. We'll cover different lighting ideas, including accent, task, and ambient lighting, allowing you to experiment with various lighting combinations.
Living Room Lighting Ideas
Use More Natural Lighting
When creating the perfect ambiance for your living room, it's important not to forget about the benefits of natural lighting. Depending on their size and where they're facing, windows can provide plenty of illumination during the day and even a beautiful glow just before sunset, also known as the golden hour.
Mirrored Natural Light
You can double the illumination in your living space by adding a large mirror opposite the window. This will also give the illusion that your living room is larger.
Mix the Lighting
A successful lighting design involves incorporating multiple light sources at various levels throughout the room. Adding layers of light from different types of fixtures allows for a flexible space that can be used for a variety of activities.
Combine the Old And the New
To bring life to your living room, consider mixing vintage pieces with modern accents. It would be even better if you had an extra chandelier lying around.
Retro-Inspired Illumination
If you're a fan of mid-century interior design, you may want to consider adding one or two retro-inspired living room floor lamps to your space. These vintage arched lamps can complement the 1960s or 1970s theme or add a touch of throwback style to an otherwise modern room.
Choose Dimmable Lighting
It is recommended to make the overhead lighting dimmable, regardless of the type of fixture. This is often a simple and cost-effective upgrade, especially if working with LED bulbs. Dimmable light switches can likely be installed without having to change out the fixture, providing instant mood lighting.
Incorporate Functional
If you use your living room for reading or as a home office space, it's important to have task lighting. A nearby floor lamp can ensure that a dedicated reading chair is well-lit.
Use LED Lights
LED lights can be a great option as a subtle light source in your living room. While neon is a popular trend, it's not the only option. Instead of using harsh colors, opt for white LED lights that can add a cool and trendy vibe to your space.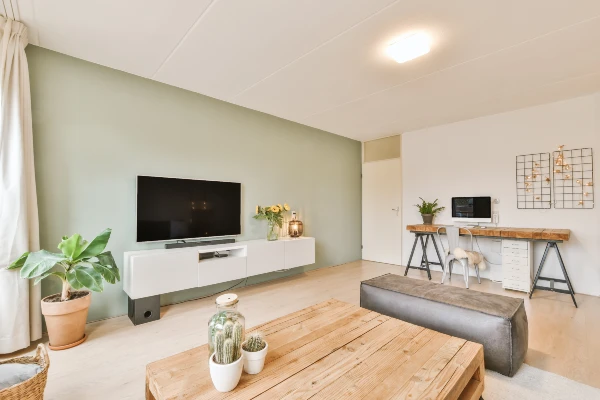 Use a Sconces
Sconces or wall lights can add visual interest to a blank wall or highlight the sofa or artwork in your living room. They're also perfect for small spaces and can help save floor or table space. You can use a pair of colorful or sculptural sconces to draw attention and provide illumination or opt for a single light for a more minimalistic look.
Add a Centerpiece
A beautiful round hanging light fixture can complete a living room and create a focal point. Use it to brighten up the seating area and set the mood. Installing a dimmer switch allows you to easily switch up the atmosphere.
Keep an Eye Out for Overhead Sources
If your living room is large or doesn't have enough natural light, using only a single ceiling fixture may not provide sufficient illumination. You may want to consider incorporating multiple overhead lights, such as recessed lighting paired with a pendant, to ensure adequate lighting throughout the space.
Choose a Steel Pendant Lamp
If you're into industrial-inspired interiors, consider adding oversized metallic pendant lights to your living room. These lights are great for ambient lighting but keep in mind that they can produce harsh light, so balance them out with softer spotlights and warmer accent lights.
Add a Spotlights
You can easily create a relaxed atmosphere in your living room by using stick-on spotlights. This simple lighting trick doesn't require an electrician and can create beautiful pools of light over your favorite decor items, contributing to the laid-back look of your lounge.
Add Some Neon Lights
According to Pinterest, neon lights are making a comeback in 2023. You can introduce a subtle neon light to living rooms using colorful LED neon signs. You can opt for a smaller light or choose a larger one with a statement quote as the centerpiece of your living room.
Strategically Placed Pendants
Pendant lights can also function as overhead or accent lighting in living rooms. You can create a reading nook by hanging a single pendant in the corner or a row of pendants above your sofa or a pair over the mantle.
Recessed Lighting
Living room ceiling lighting can be enhanced with recessed lighting. Despite its size, this project is worthwhile. Besides being visually appealing, it is also low-maintenance. LED recessed light bulbs can last for over 10 years.
Use Track Lights
Track lights are a versatile option for living room ceiling lighting. While they are commonly used in kitchens, they come in a variety of styles, including modern, industrial, traditional, and rustic. Installation is less complex than recessed lighting, and the wires remain hidden. Additionally, track lights can be angled and tilted to illuminate different parts of the room.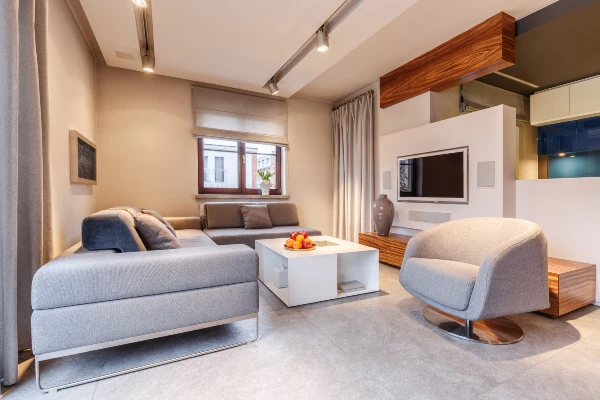 Consider LED Strip Lighting
LED strips are an affordable and simple lighting option that can be installed without professional assistance. Despite their budget-friendly price, they can add a touch of elegance to your living room. You can place them in various locations, such as around a tray ceiling, under your media cabinet, within built-in shelving, or along your mantle.
Illuminate a Corner
Transform an empty corner of your living room into a cozy reading nook by adding a floor lamp to a lonely armchair, creating a calm spot perfect for curling up with a good book.
Keep It Simple
When it comes to modern living room lighting, simple designs can have a striking impact. Consider choosing dramatic shapes and unique fixtures, such as arc floor lights with elegant silhouettes and bulbous shades. These lights can also serve as a substitute for overhead lighting.
Create a Moroccan Vibe
This lighting design idea suggests mixing and matching lanterns of different sizes and patterns, adding floor cushions, and incorporating plenty of textiles to create a cozy atmosphere reminiscent of a Moroccan kasbah.
String Up the Fairy Lights
Fairy lights can be an inexpensive and effortless way to create a cozy atmosphere with your living room lighting. You can string them up over picture frames, along mantelpieces, or around windows to achieve a modern-day candlelight effect.
Incorporate a Minimalist Style With a Subtle Lamp
You don't need an ornate floor lamp to create a statement with your living room lighting. A streamlined design with a metallic finish can be just as effective, elevating your living room design in a simple and stunning way.
Center a Low Lamp Over a Coffee Table
Placing a low-hanging lamp over a coffee or dining table can create a cozy, social atmosphere in your living room. The soft, low lighting draws attention to the seating area, allowing guests to gather and chat comfortably. This is a simple and effective way to add a touch of warmth and intimacy to your living space, perfect for dinner parties or game nights. Whether you opt for a minimalist, streamlined design or a more ornate fixture, a low-hanging lamp is a stylish and practical addition to any modern living room.
Conclusion
In conclusion, lighting is an essential element in creating a cozy and inviting atmosphere in your living room. By incorporating multiple light sources at various levels throughout the room, you can create a flexible space suitable for any activity. Whether you prefer natural lighting, vintage pieces, or modern accents, there is a lighting design idea for everyone. Experiment with different combinations to find the perfect lighting design for your modern living room.