Disclosure: This post may contain affiliate links, meaning we get a commission if you decide to make a purchase through our links, at no cost to you. Please read our disclosure for more info.
Let's face it – moving house is stressful. The prospect of packing everything you own and moving somewhere new is enough to bring out even the calmest person in a cold sweat. Even more so if you're moving interstate, overseas, or into another town.
The stress of hauling everything you own somewhere new makes it easy to overlook a few fundamental essentials. But it's these essentials that can make the first few nights in your new home a whole lot easier. So, to make your next move go off without a hitch, don't forget to pack these 10 overlooked essentials.
1. The First Night Moving Bag
Take the headache out of finding your PJs by packing yourself a first-night bag. Extra clothes are crucial if you're moving interstate or overseas, where travel plans and delays are the norms. If you're moving locally, this might not be as important as you'll be able to run back to your old place and grab any clothes you need. But, it's still a good idea to pack a change of clothes for each family member in a bag to keep in the car for emergencies.
With a change of clothes, it's worth putting in a few essential toiletries for your first night. Things like toothpaste, toothbrushes, and some shower gel will go a long way to making you feel fresh after a long day moving boxes. And don't forget your phone charger! If you don't want to look after this bag yourself, give it to your moving company. They'll take good care of your essentials.
2. First Morning Must-Haves
There's nothing quite like that first-morning cup of coffee to help you unwind after a long day of moving house. Make sure you have a coffee maker, coffee beans, and/or tea bags on hand. This can help you unwind after a long day of unpacking and settling into your new home. Instant coffee and tea are the way to go. No one really wants to whip the percolator out every time they want to make a cup of coffee. You'll have more important things waiting. Instant versions simplify the process and satisfy your caffeine cravings. Plus, your movers will thank you for providing them with a nice hot cup of coffee.
3. Paper Supplies
Always pack essential supplies like toilet paper, paper towels, and tissues. You might think this is obvious and silly to mention. But you'd be surprised how many people overlook these everyday basics. And you'll quickly find yourself in a pickle if you forget the toilet paper.
4. Your Medication
Don't leave anything to chance. Especially not your health. Make sure you've got a list of all your prescription medications and that you've told your doctor/pharmacist about your upcoming move. Ask them to put a note in your file so that you have less chance of having your prescription rejected at the pharmacy due to missing information.
If you have a chronic condition, it's best to double-check that you've got your prescription refills sorted out in advance of the move. This will make getting refills in a new area easier if you run out of medication before you have time to revisit the doctor.
5. Important Primary Documents
You'll still need to be identifiable, no matter where you're moving in the world. And no one wants to pay out to replace these essential documents. So have primary documents such as your passport, birth certificate, driver's license, and/or car title on you as you pack. If you've got a lot of boxes to haul, you might not want to keep these on your person. Instead, put them in a safe deposit box at the bank or ask a trusted friend to hold on to them.
You'll want to ensure that you have all your utility account numbers, bank account numbers, and contact information for your insurance companies ahead of time. Keep this information in a safe place so that you don't misplace it. Updating your address with the big utility companies will quickly become a nightmare if you don't have these documents handy.
6. Basic Cleaning Kit
Sure, most times you move, the previous owners will have done a pretty good cleaning job themselves. But the one time you forget to take basic cleaning materials will be the one time your new home isn't fit for occupancy straight away. So, make sure that you have a basic cleaning kit on hand before you move day. This isn't the time to use all of your fancy cleaning supplies. Instead, keep things simple. A basic cleaning kit should have an all-purpose cleaner, disinfecting wipes, a broom, and a mop.
It's also worth having a few basic tools on hand (like a hammer and nails, a screwdriver, pliers, a utility knife, and a wrench). No matter where you're moving, there are bound to be a few small things that need fixing here or there. These essential tools can make all the difference in the world. If you forget, some moving services will have basic tools on hand.
7. Food For Simple Meals
You're not going to have time to slave away making a 4-course meal, but you still need to eat. Instead of trying to bring everything, focus on bringing a few key items that you and your family love to eat. This can help you avoid overpacking while also ensuring you can eat while unpacking and settling in. Focus on bringing items that can be made quickly and efficiently so that you're not stressed out trying to get everything unpacked and ready for a big meal. Think cereal, pasta, bread, and beans. Keep it simple.
8. Just Enough Serving Ware
It's easy to fall into the trap of bringing every single dish, plate, cup, and bowl you own when packing. Resist the urge to do this. Instead, bring just enough for each member of the family. If you want to be really smart about serve ware – get disposable versions. Now, we don't want to add to landfills, so go for paper or cardboard options that can compost or plastic ones you can re-use. This reduces the chance of breakages, and you can bring plenty of options.
9. Essential Cooking Utensils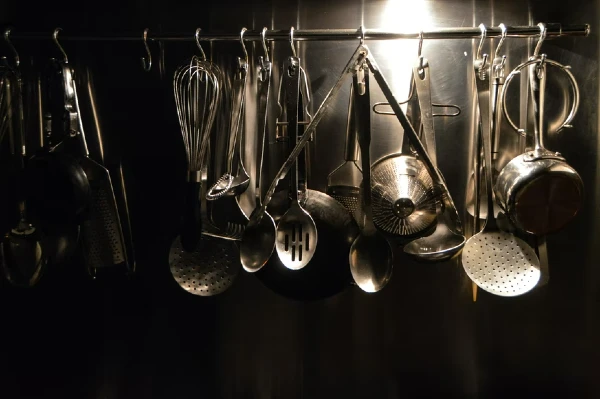 If you're going to be cooking, you'll need things to cook with. If you're packing for a small household of just a couple, you'll probably need only a few essential cooking utensils. At a minimum, you'll want a spatula, a couple of spoons, a slotted spoon, a ladle, a whisk, and a pair of tongs. Oh, and don't forget the cutting board.
1o. Don't Forget The Pets
Considering how long your to-do list is before you move house, it's easy to forget about your furry friends. While you may be eager to move into your new place and experience a clean, fresh environment, your pets might not be as enthusiastic. So prepare them for their new environment. Talk with your veterinarian about any recommended vaccinations you may need to complete and ensure that your pets are up-to-date on their regular vaccinations.
And they need to eat, too. Pack their own moving bag with kibble, some treats, any medication they need, and a few toys to keep them busy.
The Big Picture
Moving house is stressful. And it's really easy to get overwhelmed. Even when you have excellent moving help. So there's no surprise that some essential things get missed along the way. But don't worry. Just use this checklist to keep track of those overlooked essentials, and you'll have the best move of your life.
But is there anything we've overlooked? Comment below with your ideas of what items make a house move easier.