Disclosure: This post may contain affiliate links, meaning we get a commission if you decide to make a purchase through our links, at no cost to you. Please read our disclosure for more info.
Reaching the pinnacle of restful sleep requires bedding that suits your individual sleep pattern. With a lot of bedding terminology being used interchangeably, it's easy to get confused about what to get. Do you need a duvet or a comforter? Or perhaps a quilt is enough?
Well, while all of these coverings have their pros and cons, the duvet is special in that it lets you change your bedding according to the season. It is often confused with a comforter or quilt, but it's a different item altogether.
What Is a Duvet?
Duvets are soft, cushiony blankets (usually filled with feathers, wool, down, or an artificial material) that you put over your bed while sleeping to keep you cozy. People often call these comforters, but they aren't exactly the same. Comforters are one bedding piece, while a duvet is an item that is placed inside a cover. Duvets are always meant to be used as an insert, like the pillow in its pillowcase.
Covers are used to protect the insert. This helps to keep germs and bacteria away, as well as any food spills that could occur while eating in bed. The insert is secure inside the cover with ties and can be easily removed for washing. This is beneficial because washing large items can be difficult in smaller machines. Additionally, changing out the cover is an easy way to switch up the look and feel of a room, depending on the season or your personal style.
How to Choose the Right Duvet for You?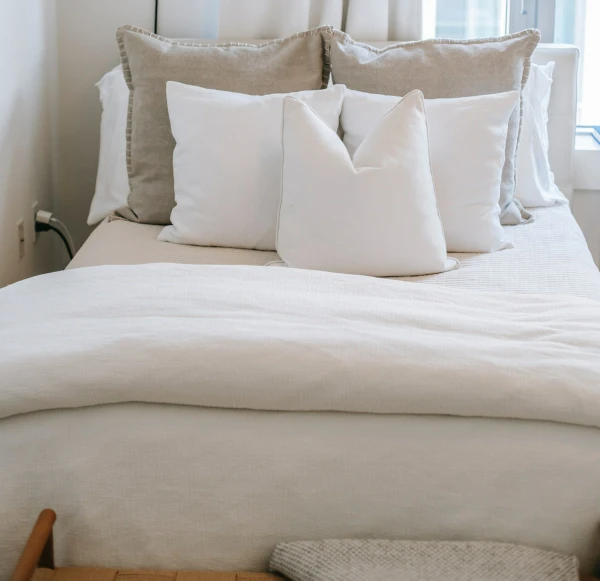 When shopping, you'll discover there are synthetic and natural duvets, different tog ratings, sizes, etc. So how do you know which one to choose? Following is all the information you need to know to make the right choice for your needs.
The Fillings
In terms of fillings, you can choose either a natural or synthetic option. What filling in a duvet is best? Well, each material offers its own advantages, so whether you buy a natural duvet or a synthetic one will depend on your specific requirements.
Natural
Natural duvets are softer and more breathable than those made from synthetic materials. They are generally filled with duck, goose or down feathers. However, some models can have wool or cotton fillings.
Down: Generally filled with soft feathers from the chest area of the bird, these blankets are usually light and offer superior insulation. Hungarian, Swedish, or Canadian down are among the more popular options since the down from these colder climates is specifically suited to keep people warm in cold temperatures.
Feathers: Generally more affordable than down but heavier due to the bigger, sturdier, and more resilient feathers.
Feathers and down: A combination of strong feathers and fluffy down provides the perfect balance of warmth and weight.
Silk: This is an excellent choice for allergy sufferers who prefer a natural filling. It is lightweight, hardwearing, and hypoallergenic and helps keep your body temperature balanced both in warm and cold weather. It is also machine-washable and tumble dryer-safe.
Wool: Wool is excellent at insulating air due to its bulky construction. As well as being non-irritating, it aids in controlling body temperature by absorbing surplus heat and moisture when necessary.
Synthetic
Given that they are typically hypoallergenic, synthetic duvets are a fantastic option for anyone allergic to feathers, down, or dust mites. These frequently contain hollow fibre or microfibre, which absorb sweat better than natural fillings and can be machine washed considerably more frequently.
Hollowfibre: The hollow fibres are thicker and resemble wires more than microfibre. This material can better trap heat because it is resilient and frequently coated with anti-allergen treatment.
Microfibre: A product crafted from super fine fibres that give a luxurious feel that rivals natural down but is lighter than feather-filled options.
Tog Ratings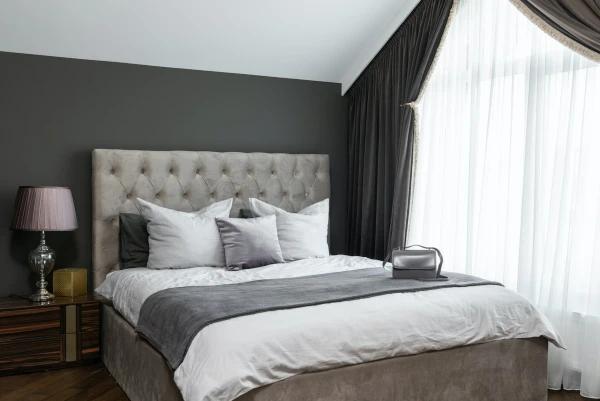 To determine how well it will keep you warm during colder months, take a look at the tog rating. It's often found on the packaging and informs you of how much heat the duvet can trap against your body while you sleep.
The tog ratings run from 1 tog (the coolest) to 15 togs (the warmest). During the summer, a 1-7 tog model is ideal, while 10.5 tog or above is the best choice for the wintertime. It may not be feasible to purchase multiple duvets, so a 10 tog one that can be used throughout the year is a reasonable alternative.
Keep in mind that the weight of a duvet is not necessarily an indication of its tog rating. Feathers and down fillings tend to provide more insulation than synthetic materials, so you don't need as much material to achieve the same temperature-regulating effect. This can make them lighter than their synthetic counterparts.
Silk fillings differ from traditional ones in that they are not rated by tog, but rather by grams of silk per square metre (gsm). As a general guide, 250gsm is roughly equal to a 2-4 tog rating, 400gsm is like a 7-9 tog rating, and 600gsm is comparable to 10-13 tog.
Outer Fabric
Typically, cotton makes up the outside layer. Cotton outer fabric, like cotton sheets, has a thread count that indicates how many threads there are in a square inch of fabric. A higher thread count is essential because the denser weave is better at keeping the filling contained. A higher thread count also means softer fabric, which plays a significant part in the comfort of the duvet.
Your duvet must have a thread count of at least 300; anything greater is unnecessary, especially if you plan to use a cover. Cotton shell fabric can be replaced with silk, linen, and blends of cotton and polyester.
Size
Like beds, these bedding items are also available in twin, twin XL, full, queen, oversized queen, king, and oversized king sizes. However, it's crucial to consider the size and depth of your mattress, which can affect the proportions of the bedding. You should make sure that the bedcovering reaches all the way to the sides, foot, and top of the bed, and if you are using a bed skirt, it should reach its top.
If two people share a bed, they may find it hard to both get enough cover, so those with extra deep mattresses may want to get a larger size for their bed. For example, if you have a queen-sized bed, you might want to get an oversized queen or king model. It's important to take precise measurements of your bed before purchasing a duvet, so you can make sure it fits properly.