Disclosure: This post may contain affiliate links, meaning we get a commission if you decide to make a purchase through our links, at no cost to you. Please read our disclosure for more info.
It feels good to work at the comfort of your home, but how can you ensure productivity? The design of your home office must help you achieve the same comfort that you can get at a commercial office, and also maintain your focus.
When designing your home office, make sure it inspires you first of all. Then, it should be designed in a way that helps you to focus completely on the task at hand.
Having the freedom to work at the comfort of your home is a perk, but it's also very challenging. To achieve productivity, you must change several aspects, including setting aside a designated space for your office.
Below are some tips to help you design your home office.
Does Colour Matter?
The colour you choose has a great impact on your mood and productivity in general.
Green is relaxing, warming, and helps you to unwind. All of this promotes comfort.
Green also has a relieving effect on stress. The calming nature of the colour green, makes your home office a stress-free environment, whilst also making it feel friendly.
Furniture
You need to be comfortable to work at home. Do you like the arrangement at a commercial office? You can mimic that and make it look even better in your home office, tweaking things to your preference. Let us address furniture at length.
1. Comfort of the Chair
Most of the time you will be working remotely and you must be as comfortable as you can be whilst sitting in your chair.
For you to sit comfortably in your home office, you need a chair that will allow you to change posture, like the height adjustable chair. The chair must allow you to sit with your knees bent at 900 and your elbows at the same angle.
You can incorporate a foot rest just to break the monotony of one posture while working.
2. Desk
There are several options when choosing a home desk. Most people prefer using the ones seen in commercial offices. This is a brilliant idea but there is a better option you can consider.
A sit-stand desk is a great fit because you can adjust the height at intervals and work while standing or sitting down. This type of desk offers comfort and is important to your health too.
There are numerous benefits that come along with such a desk. For example, it helps you to keep your weight and blood sugar in check, amongst many other health benefits.
Setting It All Up
1. High Speed Internet Access
Slow internet makes working from home a nightmare. You are there tapping your computer with loading time added on. Your brain seems to work faster than your computer. Through this, there is so much lagging in your work and also room for mistakes and low productivity.
A study revealed that one week per year is wasted by workers due to poor internet connection. Another week is wasted on missing papers and another on waiting for the loading process of your computer. This calculation adds up to a whole year wasted.
To make your home a friendly hub, you need high speed internet.
2. Office Space
Are you using a kitchen table in a corner or a desk? This sounds cool for beginners but you need an office makeover.
Having an office that supports working from home feels great. This allows you to achieve a home and work-life balance. Working remotely makes it almost impossible to avoid distractions but all this can be minimized by setting up a separate space for your office.
It also gives you the freedom to arrange your office in order and avoid that lost mouse carried away by your toddler!
3. Lighting
You might prefer the basement for your office because of the few distractions you experience. That's a great idea but you need enough light, not only in the office, but your working area. You can achieve this set up by putting your desk near the window.
Natural light is the best. Many studies have shown that natural light has a lot of health benefits that also affect your productivity.
4. Surge Protector
Power surges are common phenomenon's regardless of where you live. These occurrences could happen briefly but the havoc they leave behind could be irreversible.
A short power surge can damage the electrical circuit and affect other electrical appliances. There could be power surges that are undetectable but repeatedly can greatly affect your computer function.
To be on a safe side, it's advisable that you have a surge protector and save yourself the hassle.
5. Clutter Control
Everybody loves working in a tidy environment. Having a messy desk can take away your energy, delay work, and thereby interfere with productivity.
When you keep your desk organised, the energy used to look for misplaced things here and there will be geared towards productivity. That is called positive energy.
You can consider switching to a digital solution to save yourself the stress of piles of paper. This also makes your office eco-friendly.
Make sure your desk supports all your tools of the trade so that you don't have to look for extra space.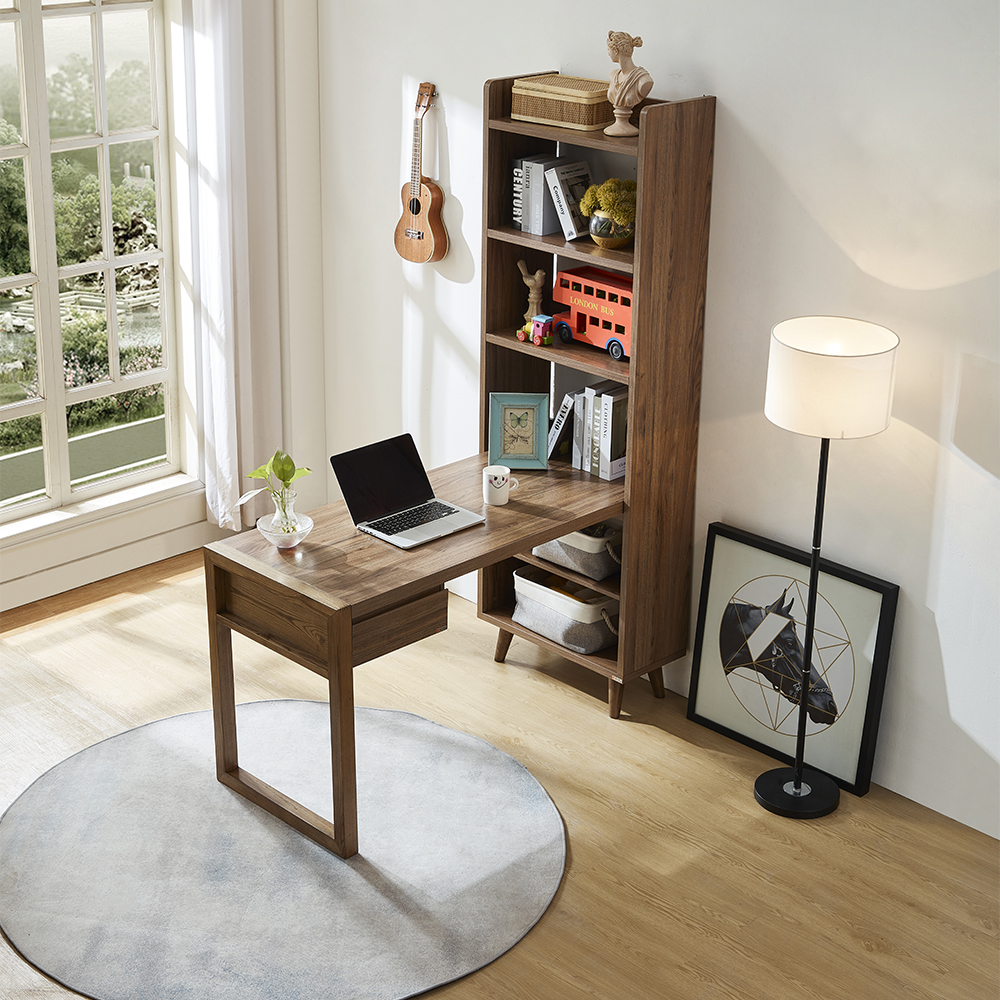 6. Should You Personalise Your Office?
Being officially a place that you spend most of your time, you can make it yours.
How? Bring in things that mean something to you or inspire you. You can use family frames, flowers, and art pieces that make you feel at home. Your workspace is a reflection of your personality, so make it look great.
You can also avoid cluttering your desk and use wall hangings or some designated shelves.
There are a lot of benefits to making your home office so friendly that you will be motivated to work without straining. It is good to feel comfortable and rejuvenated, and that will certainly add to your productivity too.