Disclosure: This post may contain affiliate links, meaning we get a commission if you decide to make a purchase through our links, at no cost to you. Please read our disclosure for more info.
In recent years silk sheets and bedding sets have grown in popularity and are more commonplace on the shelves of retailers than ever before. This is mostly due to advances in bedding manufacturing techniques borrowed largely from the modern cotton and polyester trade.
With more and more retailers stocking silk bedding sets alongside the more traditional cotton and polyester sets, we have noticed some wildly varying pricing schemes. Some silk bedding sets can be the price of others, but yet they look almost identical. So how do we know we are getting a good deal or purchasing inferior silk that wont last?
There are three main things to look for in a silk sheets. 
1. 100% Mulberry Silk
Mulberry silk is made up of one continuous strand of silk and is the best possible silk for bedding. Many bedding sets are made up of Tussah or wild silk. This silk is not continuous, but rather made up of broken strands of silk. Only 100% mulberry silk can offer the continued durability and uniformity required in a silk bedding set.
2. Momme Weight
Momme is the measurement used to weigh silk. The higher the momme number the more silk has physically gone into the item and therefore the more durable the silk will be. 12-19 momme weight is ideal for silk bedding. Momme weights of lower than 12 are mostly reserved for clothing and silk ties. The higher the momme number the more silk you literally get for your money.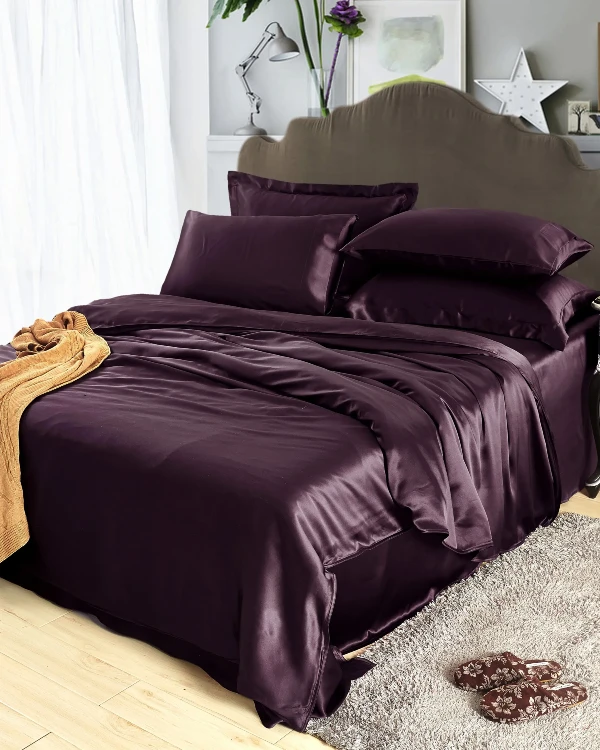 3. 400+ Thread Count
Although not as important as the first two points, thread count is still important when choosing silk bed linen. A thread count lower than 400 will directly effect the durability of the bedding set. Generally the closer the weave the longer your bedding set will last.
It is worth pointing out that with silk you get what you pay for. Cheap silk bedding sets will almost always not be able to live up to one if not all three of the above requirements. Purchasing a cheap silk bedding set is a false economy, as the items will not last. Silk that has met these three basic requirements and is properly cared for will outlast cotton and polyester sheets, proving to be both a luxurious and cost effective investment.
To Summarize
When looking for a silk bedding set always insist on 100% mulberry silk, a momme weight of 12-19 (19 being preferable) and a thread count of 400 or higher. Silk bedding sets that meet these requirements are true examples of the best silk bedding sets have to offer pure luxury.