Disclosure: This post may contain affiliate links, meaning we get a commission if you decide to make a purchase through our links, at no cost to you. Please read our disclosure for more info.
How do you use wicker baskets around the house? It is good to know that other than storage, the lovely rustic wicker baskets, hampers, and boxes also show extraordinary talents in home décor.
Time to play with your imagination to figure out various uses of hand-woven wicker basket. A picnic lunch box? A fruit storage basket? Here get inspired by 10 creative ways to repurpose wicker baskets for home décor.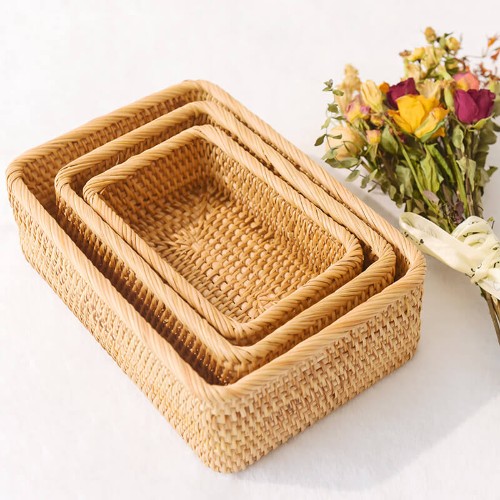 1. Kitchen Storage
Wicker baskets help greatly to organize a kitchen. Put the ingredient-rich bottles and your favorite cookbooks into wicker baskets next to the stove, handy for use. Inside your kitchen cabinet, place articles such as knives and forks, spoons, glass cups, dishes, placemats, and sponges by category in corresponding wicker boxes.
Don't you think your kitchen more neatly and more stylish now?
2. Food Serving Tray
A creative way to use wicker basket tray with holders is to serve food including bread, cakes, cookies, and various dishes for breakfast, lunch, and dinner. Want your afternoon teatime photos to get more likes on Instagram? Serve cookies, tea, coffee with wicker baskets which adorn your tea table naturally.
3. Wicker Basket Vase
It is a wonderful idea for florists and those that loves flowers to use a wicker basket as a vase to fit faux flowers. You can find different sizes and shapes of wicker baskets for different artificial plants, vines, flowers and floral stems. It makes your home décor more plural and vigorous.
4. Plant Holder
An even better idea to use wicker baskets for home décor is for real indoor plants. After the plants are planted in a ceramic pot or planter, dress it up with a wicker basket. You will love keeping a hanging basket for lovely air plant, and one big deep cylindrical wicker baskets for a weeping fig tree in the corner of living room.
5. Linen Closet Storage
Install a set of wicker baskets inside your linen closet or storage cabinet to make most of the limited space. They keep everything including towels, sheets, underwear, socks, hats, gloves, belts nice and organized, while also decorating your closet with a natural and pastoral aesthetic.
6. Unusually Artistic Wall Décor
Serval humble wicker baskets will make a plain white wall of your hallway or living room appealing and elegant. Lightweight handmade rattan baskets have the luxury of blending any home decor style, be it the classic or the contemporary. It is your idea to arrange the baskets in particular patterns and make them uniquely beautiful.
7. Knitting Accessories Storage
It is a creative way to use wicker basket for kitting accessories and tools storage. A versatile extra large wicker basket is helpful to fit needles, yarn, scissors, stitch holders, crochet hook, everything in… If you've got a wicker basket with a long curving handle, you can carry your gear hear and there, to the garden or park, kitting when basking under the sun.
8. Nightstand Décor
The vintage look of wicker basket tray also makes it easily to be part of your bedroom décor when placed on a nightstand. What to put inside the tray? How about a vintage lamp, a photo frame, old magazine, a wax candle, and a little green plant.
9. Dresser Table Décor + Storage
Still in your bedroom, a large wicker box is ideal for skincare products storage and displaying. Whether your dresser table is made of wood or metal, a wicker bask can fit perfectly into the dresser and helps arrange your perfume bottles, jewelry, cosmetics, and make-up brushes neatly.
10. For Kid's Toy
When it comes to the uses of wicker baskets for home décor and storage, the ideas are endless. We also love to have a large and special basket to store all the kid's toys easily. It gives a clean and comfortable space, moreover, it beautifully decorates our house with warmth and texture.