Disclosure: This post may contain affiliate links, meaning we get a commission if you decide to make a purchase through our links, at no cost to you. Please read our disclosure for more info.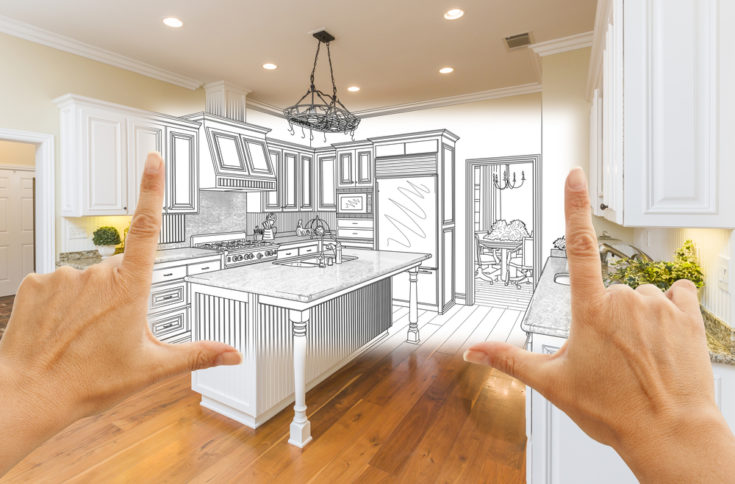 No matter how large your kitchen is, it never seems to have enough space. Like closets, you have to organize and utilize every square inch of the space available. When I had a tiny kitchen, the constant organization helped me discover some great space saving hacks. But sometimes organization isn't enough.
Sometimes getting a truly functional kitchen means making additions and upgrades or doing a complete remodel. If you find that a remodel is the best solution, here are a few space-maximizing ideas to keep in mind during the planning phase.
Seriously Consider Custom Cabinets
Standard out of the box cabinets are cheaper, but they're standard. You're stuck with a very limited selection that may not be the best fit for your kitchen.
Custom built cabinets are made specifically for your kitchen. You can select the exact dimensions so that you maximize your storage. Going custom also allow you to piece together various types of cabinets based on your needs, and you add functional features like a lazy Susan to make use of the corner cabinets. 
Custom cabinets are an investment, but they're one worth making in the kitchen.  
Add an Island
If your kitchen has a good amount of floor space but lacks counter space an island is a solution. They've become an extremely popular part of the kitchen for good reason – they greatly improve workflow, add seating, give you the ability to add specialty features and they provide additional storage. 
There are a million ways to make an island that's designed specifically for your kitchen. However, there are a few rules for designing a kitchen island right so that it makes the most of your space.
First, size the island appropriately. You want to get as much work and storage space as possible, but if you go too big it can decrease functionality in the kitchen. Don't forget to open the stove, dishwasher and refrigerator door all the way before finalizing the footprint. 

Next, ask yourself what primary functions you want the island to serve and let that guide the design.

Make sure the island is easily accessible from all sides. All around access is one of the benefits of an island.

Place the island so that it separates the workspace from the hangout/seating area of the kitchen.

Go higher with the island countertop to give yourself more storage. Since many people like to add barstool seating at the island it's common for the countertops to be 36"-42". 

Add an electrical outlet or two. This will give you the ability to use small appliances while doing prep work on the island. Plus, you can never have too many outlets in the kitchen.  
Install a Pantry With Sliding Shelves
I couldn't imagine living with a kitchen that lacked a pantry. A recent Houzz survey found that other homeowners hate doing without one too. Ten percent of the people surveyed said their kitchen remodel included a walk-in pantry addition. 
Unfortunately, there may not be space for a walk-in pantry in a small kitchen. But that doesn't mean you have to keep putting groceries in your already packed kitchen cabinets.
A pull out pantry with sliding shelves is a great solution. They are fairly easy to build and can be squeezed into the smallest spaces. I've even seen one DIYer that created a 6-inch wide roll-out pantry in the space between her fridge and the wall. It was the perfect way to store canned goods. 
Make Use of the Vertical Space
Anyone who's owned a century-old home has probably found they have taller than average walls but a much smaller footprint compared to modern homes. If you don't have a lot of square footage but you have tall ceilings the vertical space is a life saver. 
Here again, custom cabinets can be a game changer. You can also add shelves to give yourself more storage or free up the counter space. Magnetic strips are a perfect alternative to a spice rack or butcher block and it won't take up space that can be used for something else. If you're adding an island you can also add a hanging rack over the middle of it. 
Don't overlook your walls because that vertical space is extremely valuable in a small kitchen.
Making the most of a small kitchen takes a little creative thinking. Take an assessment of the space and start putting the ideas above into action during your kitchen remodel.