Disclosure: This post may contain affiliate links, meaning we get a commission if you decide to make a purchase through our links, at no cost to you. Please read our disclosure for more info.
If it takes you more than five minutes and a lot of mental effort to find that one Tupperware container, you might want to consider decluttering your kitchen. Not sure how to do that? Read along as we've prepared 6 simple tips to organize your kitchen.
1. Purge Unnecessary Items
To organize your kitchen, start by taking everything out from their place. You might be surprised by how many things you actually have in your kitchen. There might be containers you haven't seen in ages, broken appliances, dusty plates, and many more stuff to declutter. Place them on the floor or the countertop.
Now that everything's in front of you, you can begin to sort out things that you want to keep or throw away. If you don't know where to start, ask yourself these questions for each item:
Do I use this? Some people tend to hoard stuff they don't really use. This question is a great start to filter out things in your kitchen, but you need to be honest with yourself.
How often do I use this? Kitchen items with specific purposes like ice cream maker or electric hotpot burner might be fun to use. But you probably don't make ice cream every day or have a hotpot party every weekend. For things like this, you can store them in the storage room instead of your kitchen.
Is this item still in a good condition? Maybe you still keep that microwave or blender from 10 years ago. It might still work, but see if it needs a repair, or needs to be thrown away to the dumpster.
2. Clean Your Space
After you're done decluttering your kitchen items, don't put them back in their place right away. Take this opportunity to clean your kitchen shelves and drawers. An unorganized kitchen is most likely dirty, covering things with dust. Mix some water with a bit of dish soap, then scrub off any dirt particles from the surface. Don't forget to dry them afterwards.
While cleaning your kitchen space, you can also wipe off the dust on all your kitchen items. Cleaning your appliances will contribute to a nice-looking, well-organized kitchen. It might take some time, especially for large items like your fridge or oven. But trust the process—it's worth it.
3. Keep the Essentials Easy to Access
When you're cooking, you often race with time and have to multitask. During that, you might need a few things like a paper towel, plates, or colander. You might lose some time to find them—and time is extremely valuable in the kitchen. That's why it helps when things you need are at a reachable distance from where you stand.
You might want to keep the essential items accessible for anyone using the kitchen. For example, if you fry things often, you can hang a spatula and a frying pan close to your stove. Paper towels are also important on many occasions, so place them in the most reachable spot in the kitchen. If you need coffee regularly, you can place your coffee machine close to the door for easy access.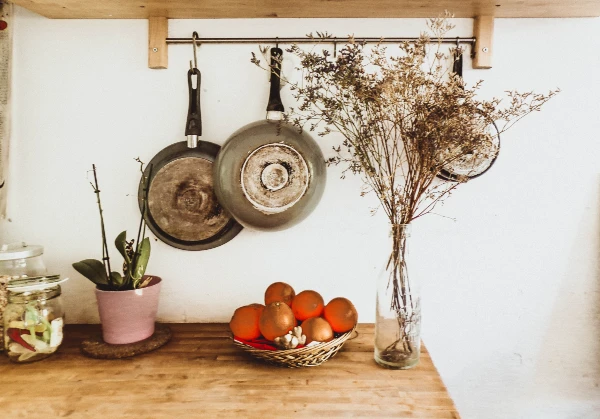 4. Set Out Zones
Since cooking and other kitchen activities require different types of equipment, we keep various things in our kitchen. Small and large appliances along with numerous utensils reside peacefully on the countertop, shelves, and drawers. Imagine the chaos when every item is placed randomly. You wouldn't be able to find what you need when you actually need it.
For a better-organized kitchen, you can plan out different spots for either different purposes or types of things. For instance, you can set up a coffee corner with a coffee machine, ground coffee, and your favorite mug. Another option is to divide the items into your drawers—this is useful for utensils and appliances. Plan your preferred organization beforehand to avoid doing it several times.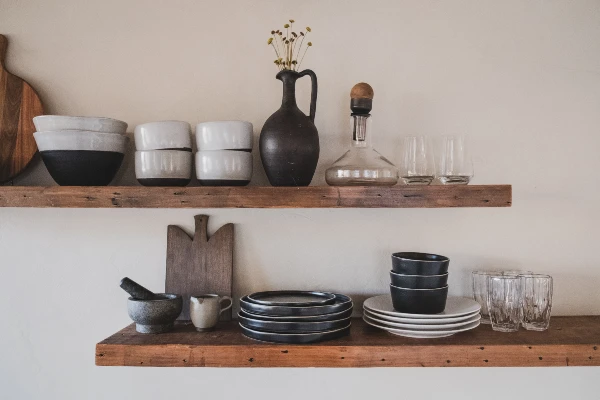 5. Collect Your Plastic Bags
Even with the rise of the green movement these days, plastic bags are still widely used in a lot of places. You might get them from the market, then decide to keep them for the sake of the environment. Yet this heap of plastic bags can contribute to an even messier kitchen.
To prevent that, you can start organizing them by folding your plastic bags into little triangles. This method is useful to save space, so you can keep all of them in a little container and take one whenever you need. Another thing you can do is to get a plastic bag dispenser. This makes it easier to store your plastic bags and take them out when you need to.
6. Try Various Organization Hacks
When it comes to storing kitchen items, don't limit yourself to ordinary cabinets. You can find countless inspirations for kitchen organization hacks on the internet. It might take some time and extra cost to alter this part of your kitchen, so consider these things before deciding to do a kitchen makeover.
There are a few ways to organize things in your kitchen. Open shelves are a great option to show off your artsy glassware and decorations. Or, to save more space, you can opt for a simple cart to place your essential kitchen tools. Whatever method you choose, make sure to adjust it to your kitchen space.