Disclosure: This post may contain affiliate links, meaning we get a commission if you decide to make a purchase through our links, at no cost to you. Please read our disclosure for more info.
The arrangement of each apartment building always considers the individual preferences of those who will live in it, as well as architectural features. However, over time, many owners desire to change something and implement ideas to improve living comfort. According to a Zillow study, the primary trend among young homeowners right now is sustainability.
This is manifested in the use of appropriate materials, design, and technology. Experts of the organization indicate that ads for the sale of houses, which contain the words "energy-efficient", "eco" and other similar concepts, are sold 2 or more days earlier than ordinary real estate. This is, in particular, an additional reason why owners decide to choose eco-friendly home improvements. In this article, we offer to find out the importance of solar systems and stylish energy-efficient bedding made of ecological materials in this case.
What Is Meant by the Term "Environmentally Friendly"?
In the era of active dissemination of ecological trends and approaches, quite a lot of new concepts have appeared. Just look at the new solar tech reviews, which talk about innovative solutions. This sometimes creates difficulties in understanding green technologies, and confusion arises in the process of choosing materials for the house. To avoid these misunderstandings, it is necessary to clarify what is covered by the term "environmentally friendly".
Experts in the field of environmental protection indicate that this is the name given to all types of equipment, materials, and technologies that do not harm people and the environment. This means that the term can apply to all areas of life, including repairs and improvements in residential buildings. In this case, the concept of an eco-friendly home can be implemented in various ways.
In particular, through solar-powered home upgrades, connecting solar heaters, improving thermal insulation, and using ecological materials. The owner only needs to choose the best ideas, taking into account individual needs and preferences, as well as technical possibilities for implementation.
What Tips Will Help to Improve the House According to the Concept of Eco-Friendly?
If you have decided to update your home and want to implement green solutions, then it is worth considering the available options first. Here are some of the most effective ideas that are relevant to most residential homes.
Purchase of Solar Panels With Appropriate Parameters
For a long time, the use of solar energy in the residential sector was very limited. One of the main reasons was the rather high cost. Owners were often stopped by this factor, even taking into account the benefit in the future. However, over time the situation has changed. Manufacturers have been able to find technological solutions that make the production of solar panels cheaper without losing productivity. You can make sure of this by looking at solar panel reviews on well-known resources.
Moreover, scientists and researchers managed to significantly increase solar panel efficiency, create more convenient forms, and also develop technology for capturing the energy of solar radiation at night. Some models are already commercially available (even with the option of solar panel leasing), and some are still under development. To understand this issue and choose solar-powered home solutions for your home, you should contact the representatives of the solar company.
They select systems taking into account the amount of electricity consumed by a specific household, technological possibilities for installing structures, as well as individual requests of the user. They can also help with a solar panel insurance policy to reduce anxiety. By choosing the best solar panels for your home, you can get several important benefits. Among them is not only a reduction of the carbon footprint but also a significant financial benefit.
Use of Recovered or Recycled Materials
Another step to eco-friendly home improvement is using recycled or reclaimed materials. This approach is becoming more and more popular, as it allows you to get several advantages at once. The first of them concerns reducing the impact of waste on the environment. Consumer culture is now at its highest level, which is a stimulating factor to increase the volume of garbage.
All this hurts the environment and leads to active pollution. The use of recycled materials under such conditions is a significant contribution to the preservation of nature and sustainable development in the future. When considering home improvement using reclaimed and recycled materials, changes can be made in many areas. It can be the floor, doors, beams that support the structure, and other components.
Investments in Energy-Efficient Devices
It is also possible to implement the eco-friendly concept by replacing faulty or old equipment with new energy-efficient devices. They provide two benefits at once – cost savings and reduced electricity consumption, which positively affect the overall power grid. Water heaters, televisions, thermostats, heating and cooling appliances, washing machines, and refrigerators can all be energy efficient.
Assessment of Energy Sources
If you plan to switch to green living with solar energy, you must first assess the level of efficiency of electricity use. It depends on how active and high-quality the transition to energy-saving technologies will be. In the process, it is worth determining the presence of insulation, possible drafts of doors and windows, as well as gas tightness.
Why Are Solar Panels an Important Aspect of an Eco-Friendly Home Renovation?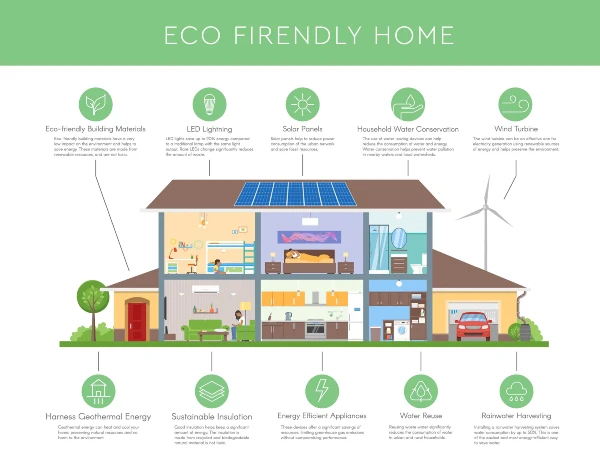 Each of the listed tips can lay the foundation for eco-friendly home improvements. However, special attention should be paid to solar systems. This is one of the most effective green energy solutions, which has received recognition from many homeowners. This is not surprising, because the technology provides several advantages:
Use of a Fully Renewable Source
All solar systems for homes convert solar radiation into electricity. This source is characterized by stability and an unlimited resource. This means that it does not decrease as the intensity of use increases. People can use sunlight in any amount without harming the environment. Thus, solar panel technology is a component of stable sustainable development and a prerequisite for realizing the idea of an eco-friendly home.
High Level of Payback
For every homeowner, the financial aspect is important. Before implementing the project, each of them usually calculates the full cost and compares it with their capabilities. For some, the cost of solar systems integration may seem too high, resulting in doubts. Despite this, the structures can be a very profitable investment.
To make sure of this, you need to calculate the savings on electricity bills for the entire period of operation of the solar panels. Most of the models on sale can provide stable electricity production for 35-40 years. The average payback period is 8-12 years. After this time has elapsed, the user receives a net benefit. Experts indicate that the level of payback under such conditions can reach up to 400% of the initial investment.
In this way, home improvement with solar panels allows you to get not only a stable, clean source of electricity but also a financial benefit. An additional bonus will also be an increase in the value of residential real estate. If the house is put up for sale, its value can be increased by about 20%. The amount of interest depends on many factors, including the ownership of the structures. If solar panel leasing is chosen, it will be lower than in the case of a full system purchase.
Helping to Preserve the Environment
Solar panels are one of the most effective eco-friendly home improvements that deliver results not only at the household level but also on a local and national scale. It is worth starting with the fact that traditional power plants that produce electricity run on fossil fuels. In the process of processing natural gas and coal, harmful gases are emitted into the atmosphere.
Solar panels work according to a completely different scheme. They do not use exhaustive natural resources but work on solar radiation. Its volumes are unlimited, and in the process of its transformation into electric current, there are no toxic emissions. Using solar energy innovations, it is possible to significantly reduce the carbon footprint and protect the environment from harmful effects.
In addition to the listed advantages, it is worth highlighting the active support of the government and local authorities for the installation of solar systems. They offer several types of discounts and special programs for those considering all possible solar panel financing options. To learn more about them, you should go to the official websites of the organizations or contact your local solar company. Experienced managers will help you choose the most profitable solution, taking into account all individual characteristics.
What Is the Importance of Ecological Stylish Bedding for Green Homes?
Buying eco-friendly accessories can be an important part of home improvements. Bedding is one of them. It helps to create the appropriate atmosphere and make the decor of the rooms harmonious. If you choose the eco-friendly direction, then you should consider stylish and sustainable bedding made from organic natural materials.
Among them, you can highlight bamboo, flax, hemp, and cotton. They are made of environmentally friendly fibers that provide comfort and have a stylish appearance. When choosing eco-friendly home decor for the cold period, it is worth considering blankets that are made of organic flannel and wool. They are perfectly warm in the cold season and are completely environmentally friendly.
Electric heated blankets can be another interesting solution. This is an original combination of bedding and solar technology, which can also become one of the important components of home improvements. Given the specificity of such a decision, it should be considered in the cold period of the year.
Final Thought
Sooner or later, every homeowner wants to improve their home and make living in it more comfortable. You can choose different methods for this. However, in recent years, eco-friendly sustainable home design has become especially relevant. It involves the use of innovative solar panels, home decor, and textiles made from natural materials, the installation of energy-saving technologies, and other important steps that bring individual households closer to realizing the concept of sustainable development.
Image Source: Extron Battery