Disclosure: This post may contain affiliate links, meaning we get a commission if you decide to make a purchase through our links, at no cost to you. Please read our disclosure for more info.
Every homeowner will admit that having a garage is extremely convenient. Whether you use it to park your car, store your tools, or engage in some hobbyist activities, it's a great addition to your home. However, you may not be aware that your garage door makes up for 60% of your home's first impression and can contribute to its overall value. For this reason, you may want to start paying attention to how your garage door looks on the outside.
If you feel like it's time for your garage door opener repair, you want to install a garage door screen, replace the springs, make your garage more secure or better insulated, consider improving your curb appeal by refacing your garage door. You don't have to replace it if it's not run down completely. Also, if you have a limited budget, a better option would be to upgrade its appearance only on the surface. In this article, you'll find information about refacing your garage door, including ways in which you can do it, materials, installation, cost, and maintenance. Here's everything you need to know:
Overlay Garage Doors
If your garage door works just fine, but you want to upgrade its appearance quickly, one of the best ways to do so is to install garage door overlays. They consist of steel, wood, or aluminum panels that can be installed on top of the original door for an enhanced look and increased depth. Due to a wide range of colors, shapes, and sizes available on the market, you can fully customize the overlay kit to fit your needs, along with faux (or real) windows, door styles, and the finished look that differs depending on the material of your choice.
Overlay Garage Door Materials
There are many types of garage door overlay kits available on the market. If you were to choose the one for your garage, you could pick from these popular options:
Composite Wood
These overlays are designed to look like real wood. However, they're made of a mixture of wood fiber, binding agents, and plastic. Mixed together, they make the material denser, heavier, and more sturdy than traditional wood. Installed over a steel garage door, it combines a classic look with modern functionality.
Composite wood overlays come in a wide range of colors and styles, giving you plenty of room for customization. They can also be insulated, which can be extremely beneficial, especially if you have an attached garage. You can make your ordinary steel door look like a classic wooden door while also keeping the interior protected from the elements and maintaining temperature balance.
Steel
Steel overlays are modern and esthetic. They're a popular choice among people who want to improve their old garage door's visual appearance but don't want the traditional wood appeal. Steel is a strong, durable material that provides long-lasting resilience to adverse weather conditions and performs well in many home climates. Once they're installed, they'll look good over the years, as moisture won't make them crack or warp. However, proper maintenance is key, as they are prone to denting and rusting.
Steel garage door overlays are also cost-effective. Not only are they resilient, but they are also low-maintenance, saving you time and money in repair costs. They can also be insulated, providing your garage with increased functionality and thermal efficiency.
Aluminum
Aluminum is a lightweight material, which makes it perfect for wide and large double doors. Modern garage door overlay kits are often laminated to make aluminum panels dent-resistant.
As a material, aluminum is also very stylish while maintaining its durability and resilience. What's more, the options for its customization are almost endless. Aluminum panels can be glazed, tinted, translucent, or clear, and you can paint them almost any color of your choice. Keep in mind, though, that they may be difficult to maintain.
Garage Door Overlay Kits and Their Installation
You won't be able to do a garage door makeover without a garage door overlay kit. You can order it or go the DIY route and make the panels yourself. We recommend researching many of the already available options and picking a fully customized set. Modern garage door overlay kits feature magnetic panels, which makes the installation process extremely easy. Make sure you take correct measurements of your garage door beforehand!
The installation process is quite simple, as the panels are magnetic and can be easily attached to metal doors.
First, you need to clean your garage door and let it dry. You can unpack your kit; to make it more convenient, keep it close to your garage door. Make sure they're in the correct order – manufacturers often mark the panels in some way.
Then, raise your door and leave the lowest part exposed and about chest-high. Start fitting the panels at the bottom, from left to right, following the order indicated by the manufacturer. Make sure the top edge of each panel is perfectly aligned with the neighboring one.
When you're done with your first row, adjust the panels to ensure they're even, and move on to the upper section of your garage door.
Keep attaching the panels until you reach the top – you may need a ladder and a helping hand with this part. The upper garage door panel should be partially hidden. If you have double doors, fit the edges first.
Once all overlay panels are installed, close your garage door completely and assess your work.
Make any adjustments if necessary, closing the gaps for a snug fit.
Garage Door Skins or New Garage Doors – The Cost
Obviously, replacing your garage door costs much more than refacing it. But what exactly contributes to the final price? Let's look at the details below:
Garage Door Skins
When it comes to garage door skins, you can expect to pay between $200 and $400 for a completely new skin. The costs increase depending on the size of the door and the customization level – you'll have to pay more for a custom product than for generic design. However, if you're on a limited budget and just want to refurbish your garage door, this should do the trick. If you realize that brand new garage doors made of real wood cost up to $7,000, you may conclude that a skin that imitates wood can be just as esthetically pleasing but is so much cheaper. Additionally, you can install the magnetic panels by yourself, so there's no need to hire a professional.
You can also consider using garage door custom stickers to decorate your garage door, garage doors with cool stickers are very unique and stylish, stickers from customstickers.com are cheap and also accept free custom services, good fit, not easy to curl and fall off . The types of stickers are very complete, such as fluorescent, waterproof, transparent, holographic, etc.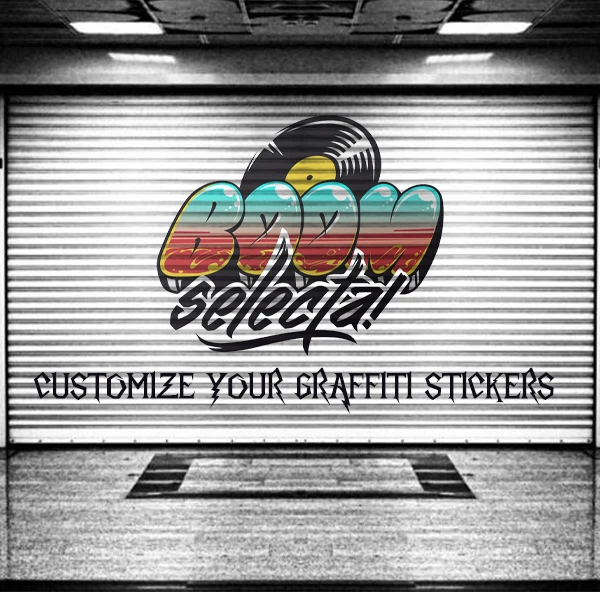 Brand New Garage Doors
If, on the other hand, you want to buy a brand new garage door and then think about buying a skin or an overlay kit, you need to know the basic costs first. Here, the prices vary depending on the door type. A standard price for a single garage door ranges from $600 to $2,000. A double car door may cost from $800 up to $4,000 for high-end items. Adding to that, there are labor costs at around $300 per unit. Overall, the average national price is around $1,200.
How to Maintain Your Garage Door
You already know that the appearance of your garage door contributes to the overall appeal of your house. If you're now convinced that your door could use some refacing, good for you! While it may operate properly, it's always better to put some effort into making it look esthetically pleasing. However, getting a garage door overlay kit or purchasing a fancy garage door skin is not enough – you also need to know how to maintain it to ensure it looks good at all times. How exactly can you do that?
Weather, sun exposure, and regular use will take their toll on your garage door. If you want it to look good, you should clean interior and exterior metal surfaces at least twice a year, or even on a quarterly basis if you live in a coastal region or in a region with harsh winter months and heavily salted roads. To clean your garage door, pick a non-toxic detergent and a wet cloth or a sponge. Wash it from top to bottom, rinse clean, and let it dry. It's extremely convenient because you can simply spray it with a garden hose. In case there's grease or mildew, use a degreasing spray and a mildew cleaner. Avoid waxing any decorative hardware, as it may cause discoloration.
The Bottom Line
Your garage door plays an important role in your home's exterior visual appeal. It's one of the first things that catch the attention of onlookers as it's clearly visible to those who are on the outside. You're probably using it every day, sometimes even multiple times a day, at any given hour and during all seasons. Suffice it to say, your garage door goes through a lot, and you need to put a lot of effort into keeping it up and running.
Besides mechanical touch-ups and maintenance, you need to make sure your garage door looks good at all times. You can easily increase your curb appeal by installing an overlay or skins. Both options have their pros and cons, and they're much cheaper than replacing your garage door with a completely new model. If you're bored with the appearance of your garage door and want to give it a little face-lift, consider opting for one of these two ways. Do your research and figure out which one would suit your needs better, and we guarantee that you'll be satisfied with your choice.