Disclosure: This post may contain affiliate links, meaning we get a commission if you decide to make a purchase through our links, at no cost to you. Please read our disclosure for more info.
If you're the slightest bit into wine whether you buy yours online or at your local wine shop you might be wondering how to store the stuff. You could leave it on the countertop or in your cupboard – but if you have a dedicated space to store your entire collection, you might feel that little bit more satisfied with your interior design solutions. This is where a wine fridge comes in!
What Is a Wine Fridge?
As the name suggests, a wine fridge is a fridge that is used to store bottles of wine. These often have a few bottle holders that can be stored the bottles securely. They have been used throughout the hospitality industry for years, and are now finding their way into houses and apartments of wine connoisseurs around the world.
Wine fridges have adjustable temperatures, depending on what bottles you are storing in them. Small ones can fit anywhere between 8 and 30 bottles, and they can be freestanding or stored on a countertop.
Why Do I Need A Wine Fridge?
There are a few crucial benefits of a wine fridge. One is that some wines are very specific about their temperatures. Many wines react badly to too hot or too cold temperatures. They don't taste right after too long at this temperature – meaning that they do really need their own area where the temperature stays constant.
It is also beneficial for many wines to be stored horizontally. This can be a pain in cupboards and fridges that don't have any racks – but wine fridges do usually include this. There is also minimal light in a wine fridge, which can again lengthen its shelf life.
When Is It Time for a Wine Fridge?
You might want a wine fridge if the following apply to you:
You have enough appliance space in your house for a small, designated fridge. This could just be a countertop if you only have a small space!
Your house or apartment is warm, and you don't have a cool spot to store wine.
You regularly have 10+ bottles of wine in your house or apartment at any one time.
You often host dinner parties.
You live in a hot climate.
You subscribe to a wine club and need to store a lot of wine.
You are hoping to age some wine.
What to Think About When Buying Your Fridge
So, you've decided to purchase a wine fridge! Here are a few things that you should consider before making a purchase.
First, think about the size that you want for your ideal collection. How big are you planning on growing your wine selection? Purchase with that in mind – as well as for the right space, of course! If you have a smaller space, think about a smaller one that can be stored on a counter top easily. If you travel a lot, many wine fridges are portable – just plug it in when you get to the next destination!
Consider where the fridge will be and whether it makes noise. This might not bother you, but if the refrigerator is near your bedroom and it hums all night, it could get annoying!
Also consider the temperature options (some have two-zone temperature abilities) and humidity control, which is essential.
Our Top 3 Wine Fridges for Small Spaces
Here are some suggested places to start wine fridge shopping!
Newair FlipShelf™ 24″ 162 Can or 54 Bottle, Built-in or Freestanding Wine and Beverage Fridge with Reversible Shelves. The Newair FlipShelf™ Wine and Beverage Fridge is a game changer.
Want an icy six-pack for game night? Flip the shelf to the flat side for traditional cans. Need a perfectly chilled bottle of bubbly for date night? Flip again to nestle wine bottles — no more unstable rolling and clinking. With convenient freestanding or built-in installation options, this wine and beverage fridge works in any room of the house.
Best Buy: Insignia™
has a lovely 14-Bottle Wine Cooler, made from stainless steel. The bottles can all fit lying down, and the design is classy and sleek. You can purchase it from BestBuy by clicking here.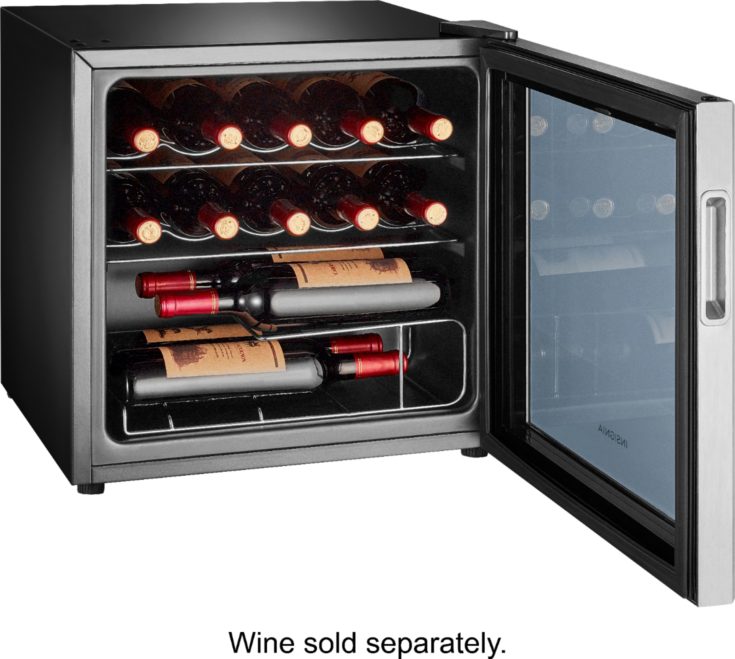 Wayfair
This 18 Bottle Single Zone Freestanding Wine Refrigerator is perfect for storing under the kitchen counter, with its long and narrow design. Buy it from Wayfair by clicking here.
Amazon
This smaller wine cooler is a classy red design and fits 8 bottles. It's great for people who have a smaller wine collection and minimal storage space! Buy on Amazon by clicking here.
Summer Wine Deals!
Before we get into wine fridges, we have a great deal to share on the best online shop to buy wine! Save on summer-approved wine sets! From Sippable Spanish Reds to Crisp Whites & Sparklers, and Tropical Selections, Wine Insiders has just what you need for the season!
Use code 35SUMMER at checkout to get 35% OFF summer-ready wines & packs plus a FREE Corkscrew at Wine Insiders! Skip the store-get convenient & safe delivery straight to your door! Enjoy FREE Fast Shipping on 6+ Bottles. Some restrictions apply.