Disclosure: This post may contain affiliate links, meaning we get a commission if you decide to make a purchase through our links, at no cost to you. Please read our disclosure for more info.
When it comes to bedding, you can't afford to be too stingy. There's a wealth of different options out there, each claiming to be the highest quality, most beautiful, "gives you the best sleep you've ever had," option that will be perfect for your home.
For anyone who's actually gone out and spent hours of their life trying to sort through these options (guilty as charged…), it can be very daunting. I'm no cheapskate, but even I try to find the best deal I can whenever I'm out and about trying to find something that will let me sleep, read, and gently nudge my husband in the ribs when he's snoring, in comfort. I'll tell you – often, it's anything but fun.
But then I realized something – the main reason I was having so much trouble was because I had been investing my time in the wrong place initially. Rather than loking through pages upon pages of marketing ads directed at getting women to blow their money on yet another set of pillows, I should have been learning about what really mattered.
To help you avoid my mistakes, I've put together this handy little guide, that will take you through some of the terms and considerations that you need to be aware of, before you shop. With these in mind, you can skimp through the "Luxurious, elegant bedding" malarky that you'll find in every piece of sales copy out there, and jump right into what matters. With this knowledge, you'll be able make confident decisions with your purchases, couple them with the right mattress for you, and yes – actually get the best sleep of your life!
Thread Count is Key
This is the biggest indicator between a winner, and your next, "I'll run this to Goodwill later," bedding set. It's a simple rule – the higher the thread count, the softer your bedding will feel. The basic theory behind this is that, simply put, the more threading used to construct a sheet or comforter, the more it will bend, bow, and morph to fit the contour of your body.
Now bear in mind – it's not the end all be all, just the most likely indicator of quality. Most of your quality bedding sets run between a 200 and 800 thread count, but you'd be surprised how often you can still find some great (and not so great) buys on the opposite end of the spectrum. I've run into 200 count sheets that felt as good as silk on my skin, and I've lain on a 1,000 count sheet that felt like someone used sandpaper for the foundation.
All in all though, before you look at anything else, check the thread count. Ninety percent of the time, it'll get you on the right track.
Compare the Materials
Second to thread count is the materials used to craft the bedding. Even if the piece has a thread count of 1,000 or more, if the material doesn't feel comfortable on your skin, it's going to be a bust for you. There's many different materials out there you can choose from, and I've selected just a few to illustrate how diverse it can be:
Cotton
The most frequently used of materials, cotton is soft, comfortable, and will help keep you cool, even in the hottest of temperatures. It's not very durable though, so it will wear out after a few years, or after one particularly jovial session of play with a cat.
Silk
The fabric of royalty, silk is one of the softest materials you can get, and it's unbelievably therapeutic. Try coming home after a long day, laying down on a set of fine silk sheets, and tell me you don't feel instantly better. The only drawbacks are that silk isn't very resistant to damage, and it stains easily.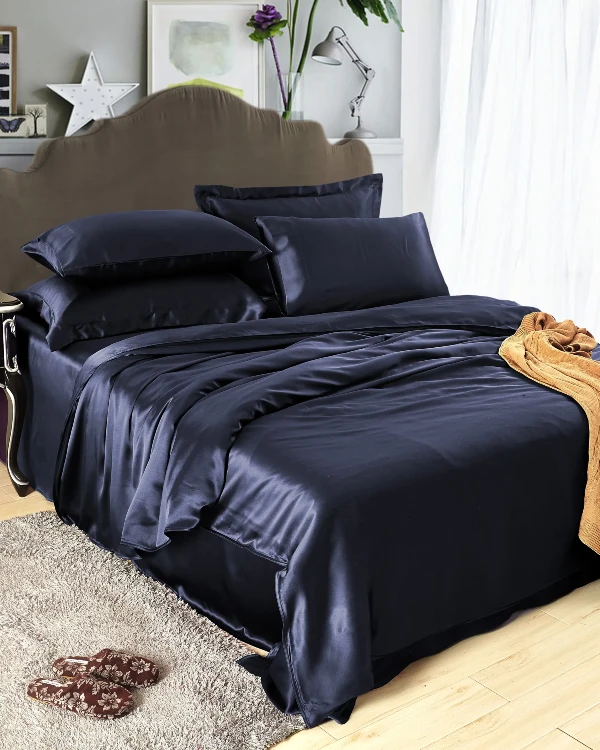 Flannel
Definitely not the softest material you can find, but it certainly is one of the warmest. Flannel is also thick and durable, so you can count on it lasting you for a long time. It can get excessively hot, and wrinkles easily, so if you're a form before function kind of gal, you'd be better off passing on flannel.
Examine the Weaving
Weaving refers to the density, or the thickness, of a set of bedding. Tighter weaves are more comfortable, and are typically higher quality, but can be a nightmare to keep clean. Your best bet is going for a middle range weave so that you'll sleep comfortably, but don't have to run and buy a new set every time there's a spill.