Disclosure: This post may contain affiliate links, meaning we get a commission if you decide to make a purchase through our links, at no cost to you. Please read our disclosure for more info.
Book lovers will agree – the reading environment is important for better focus and reading experience. Having a place that's quiet, and cozy and where you can be surrounded by your favorite book titles can play a big role in maintaining your reading habit and relaxing from a busy day. Furthermore, a reading nook can be very useful if you have kids. Spending more time reading will help you set an example and build good reading habits with your little ones.
The space dedicated to reading will be an encouraging space for everyone in your home to relax, but also focus on studying and building their knowledge and skills. Read our tips for creating the perfect reading nook in your home and making it a favorite part of the household.
1. Choose the Right Place
When it comes to creating a great reading space, it's important to pick a part of your home with low traffic and away from the noise. This doesn't need to be a whole room – it can be a corner of your bedroom, the end of a hallway, an alcove, a windowsill, or even the space under the stairs. It's very important you pick a place where you won't be interrupted a lot, a place where you can enjoy silence and privacy. Access to natural light is preferred, yet your reading nook doesn't necessarily need to be next to a window. Try to be open-minded and creative about the space you choose – there may be a corner in your home you overlooked for a long time, but it can turn out to be a perfect reading nook.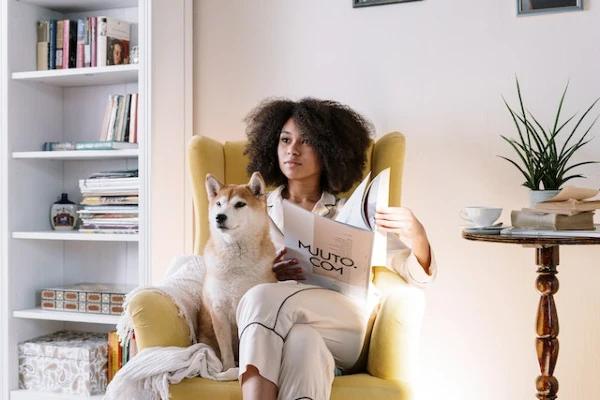 Pick a place where you'll feel cozy and relaxed.
2. Create Privacy
After choosing the space you'll turn into a reading nook, figure out the best way to separate it from the rest of the room or the house. You can use curtains for an extra cozy vibe, but also use a bookshelf as a divider. This doesn't need to separate the space completely, but it should add an extra layer of privacy and visually isolate the nook from the rest of the space.
3. Make Sure You're Comfortable
It's true that you can read everywhere, but the whole point of creating a reading corner in your home is to feel comfortable and cozy while sinking into the pages of your favorite book. That's why you should pick furniture with only one priority – comfort. Think about your favorite reading position – do you like sitting or laying down? This will help you decide what would be the best piece of furniture for your reading space – a cozy chair, pillows on the floor, a rocking chair, an ottoman, or a small sofa. There are plenty of options and you can choose a piece that will make sure you're comfortable and relaxed during your reading time.
4. Add a Small Desk or a Side Table
The sitting situation won't be complete with a desk, coffee table, or side table. You might use it to place down your coffee or tea, or even write down some of your ideas, plans, or interesting parts of a book you're reading. For a small reading nook, pick compact pieces or narrow side tables that easily blend with the sofa or armchair and don't take away a lot of space. If you have a lack of space in your home, or you're moving into a smaller space, Van Express Movers suggest replacing your furniture with a more compact, slimmer, and multifunctional version. Pick items that are easy to move around and pieces that have dual purposes or can hold additional storage.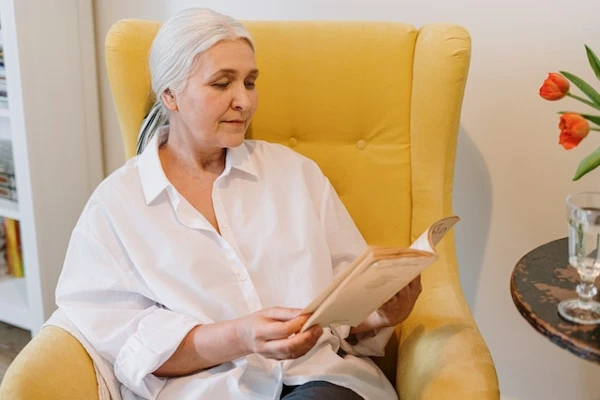 Have a comfy chair and a small table to place your coffee, tea, glasses, and more.
5. Make Books Easily Accessible
The purpose of creating a perfect reading nook is that you can effortlessly pop in and read a couple of pages and relax. This means you should have everything you need at hand – particularly your books. You can go with a classical wall bookshelf, but also stack them on the floor, keep them under the side table, in a book basket next to the armchair, or under your sitting bench. Sort your books according to their popularity – the ones you read frequently or at the moment should be easy to reach.
6. Choose Reading-Friendly Lights
Natural light is surely the best option when it comes to reading and if possible, take the advantage of natural lighting as much as possible. It's easy on the eyes and energy-efficient. However, your reading nook may not be next to a window, and you'll need artificial light for evening reading sessions. For that reason, pick a lamp that will provide optimal brightness – preferably one with different brightness levels. You should have one main light for ambiance but also a focus light for reading.
Be sure to avoid sterile, cold white light as it can hurt your eyes. Instead, you can choose warm or neutral light that's easier on your eyesight but also creates a cozy atmosphere. However, if you're about to move into a new home and create a reading nook over there, take packing and moving lamps seriously. Make sure you do it with extra care, as such pieces are very fragile and require proper protection during transport or when placed into storage.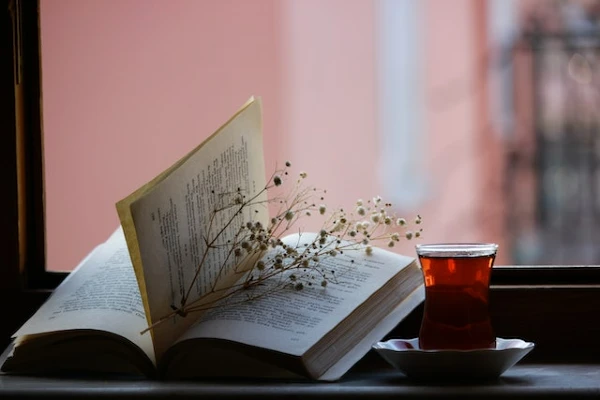 Natural light is the best, but make sure you've got a lamp for evening or night reading sessions.
7. The Secret Is in the Details
The final step of creating a simple corner into a perfect reading nook is adding details that will make it easier to get cuddled up. Comfy pillows, some plants, art pieces on the wall, a cute rug on the floor, and a blanket over your armchair – these are all simple, yet effective ways to add to the coziness of the space.
Moving into a new home is a perfect moment to have the perfect reading nook you've always wanted. With a few simple steps, you can create your personal retreat – a place where you can go to take a break from a busy day and sink into a world of a favorite book.