Disclosure: This post may contain affiliate links, meaning we get a commission if you decide to make a purchase through our links, at no cost to you. Please read our disclosure for more info.
Anyone who has ever stepped into a sun-drenched room on a hot day knows that windows can let in a lot of heat. In fact, window glass can absorb up to 30% of the sun's heat, making it one of the biggest sources of heat gain in a home. Fortunately, there are a number of window treatments that can help to keep your home cool and reduce your energy consumption.
1. Reflective Window Film
Reflective window film is one of the most popular and most effective window treatments available. It works by reflecting heat away from your windows, which keeps your home cooler in the summer and warmer in the winter. Reflective film is also very effective at blocking out UV rays, which can damage your furniture and flooring over time.
When choosing reflective film for your windows, choose a high-quality product that will last for many years. Second, be sure to measure your windows before you purchase the film so that you can get the correct size. AC services providers note that combining the power of your home's cooling unit and energy-efficient window treatments can save you a significant amount on your energy bills each year.
2. Blinds or Shades
Blinds and shades can also be effective in reducing energy costs, but it really depends on your specific needs and preferences. Blinds are typically made from materials like wood, metal, or plastic, and they work by blocking out sunlight with their slats. Shades, on the other hand, are usually made from fabric, and they work by softening the light that comes into a room.
If you live in an area with a lot of sunlight, then shades might be the better option for you. They can help to keep your home cool in the summer months by blocking out some of the sun's heat. And in the winter, they can help to keep your home warm by trapping heat in. But if you live in an area with cooler temperatures, blinds might be a better option. They typically offer more insulation than shades, which means they can help to reduce energy costs even further.
3. Curtains or Drapes
Curtains and drapes are effective at blocking out sunlight, which can help keep your home cooler in the summer. Heavier curtains will provide more insulation than lighter ones. If you choose drapes, make sure they have a white or light-colored backing since dark colors will absorb more heat. You can also find curtains and drapes with special coatings that reflect heat, such as those made of aluminum foil.
If you have large windows, curtains and drapes can be a good option. And if you want to keep your view, curtains or drapes that hang on a decorative rod close to the ceiling will do the trick. Just make sure to open them during the day so you can take advantage of natural light and open the windows to let in a breeze when it's comfortable outside.
4. Windows Shutters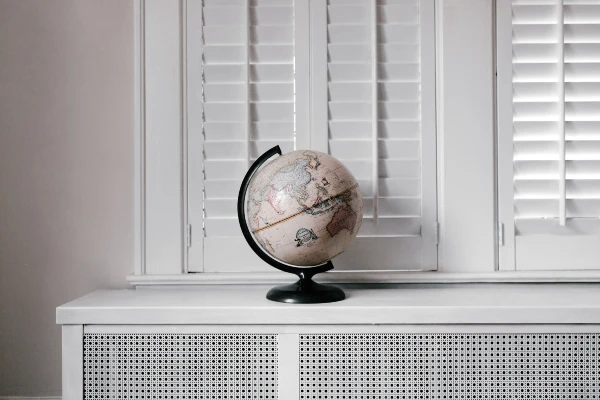 Shutters provide a barrier between the window and the outside air, which helps to keep your home cool in the summer and warm in the winter. Shutters are also easy to operate and can be opened or closed as needed to adjust the amount of light and heat entering your home. If you're looking for an energy-efficient window treatment that will also add style and value to your home, shutters are a great option.
You might also want to select shutters that complement your style. For example, plantation shutters have a classic look that can be used in a variety of settings, while Bahama shutters are perfect for a beach house or tropical-themed home. You can use them to add privacy and light control or let them add a decorative touch to your windows while offering a cool, comfortable environment inside your home.
Choosing the Right Window Treatments Matters
When it comes to saving energy and money, your window treatments matter. By making the right choices for your home, you can improve your comfort level while also reducing your carbon footprint. If your windows no longer provide the energy efficiency level you need, it might be time to consider new window treatments. Get started with the energy-efficient options above.