Disclosure: This post may contain affiliate links, meaning we get a commission if you decide to make a purchase through our links, at no cost to you. Please read our disclosure for more info.
Bedroom interior design in the style of minimalism is the best choice. Environmental friendliness and reasonable consumption set trends in clothing, interior design, and many other areas. More and more people are giving up unnecessary things, simplifying their lives. The design of the bedroom in the style of minimalism is a simple style combined with practicality and openness of space. The focus is on the simplicity of lines and basic shapes with a minimal color palette.
Bedroom Floors in the Style of Minimalism
Flooring forms the overall mood of the room. In minimalism, natural materials are a good option: stone and wood. Natural surfaces may be combined with artificial ones, the main thing is to find a balance.
Parquet and wooden boards are ideal for minimalist interiors. For the bedroom, you can safely choose light matte and glossy panels. As an inexpensive alternative, consider laminate with a wood structure. You can also consider LVT vs LVP and before making your choice, you can also find out the answer to the question, what is the difference between LVP flooring and LVT?
The color of the floor should be combined with the shade of the walls, and the texture should correspond to other surfaces. This is the basis of minimalist design.
Basics of Bedroom Interior Design in the Style of Minimalism
General characteristics of a minimalist approach to design:
No more than three colors. Minimalism involves a simple color palette, often different shades of the same color. Saturated colors are only for accents. It is not recommended to use more than three colors. The color palette should be of neutral shades. It is not necessary to use only light monochrome. A black and white or gray and white palette is a classic of minimalism.
Lots of light. You should not rely only on an overhead light or a table lamp, it is recommended to arrange the lighting in the bedroom in layers. Add multiple light sources that you can turn on and off for maximum convenience.
Functionality. From the furniture, only the most important basic elements should remain – a bed, a wardrobe, a sideboard or pouf for storing small things, an elegant lamp, and decorative elements.
Open layout. Such a layout and a lot of light create a feeling of lightness in the space. Such a decision helps to maintain a balance between restraint and comfort in the interior.
Interior planning depends on the size of the room. The choice of furniture, its quantity, size, and color should contribute to the visual increase of the space. Below are tips on how to arrange a bedroom if it is small.
Interior of a Small Bedroom
Minimalism is primarily about a large, bright space. But it can also be used in small rooms, while the main task is to visually increase the space. The interior of a small bedroom in the style of minimalism involves a smaller number of objects and light shades. The effect of lightness and casualness is enhanced by the panoramic window.
A minimalist bedroom should have three main details: a light source, a bed, and a nightstand. The rest is optional, depending on the circumstances.
In small rooms, try to install only the necessary pieces of furniture. There should be space. In addition, the furniture looks matter a lot. Each object should have its own visual weight. For example, a minimalist bed frame looks much lighter than a massive version with a wide headboard. Or you can choose a sofa with a simple flat shape.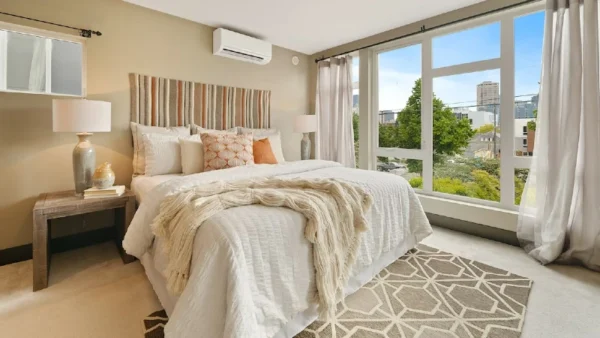 Do not put a lot of decorative items in the room. Leave one piece of art and one shelf for the books you love. Get rid of unnecessary things. If possible, remove the curtains or choose the most inconspicuous ones so that as much sunlight as possible enters the room. If you want to block out daylight during the day, choose curtains of dark shades or those that let in minimal light.
If you need to arrange a workplace in a small bedroom, do not buy models with bulky cabinets and drawers. Choose a simple laconic table with the correct geometric shape.
To visually increase the space, use light-colored throws, bedspreads, and artwork as décor. Hang a mirror on at least one wall. This will create the illusion that the room is much larger.
And, of course, use vertical space. Buy tall bookshelves that take up less floor space. When the layout is properly balanced, the result is a calm, minimalist bedroom design.