Disclosure: This post may contain affiliate links, meaning we get a commission if you decide to make a purchase through our links, at no cost to you. Please read our disclosure for more info.
The small footage of the bedroom is not a drawback at all. On the contrary, you can easily turn a small room into a comfortable and stylish bedroom. Don't know how? Check the article below.
All small bedrooms are different: they may differ in the shape of the room, in the height of the ceilings, the location of the door and the size of the window. But in this article, for each of them, there is a suitable tip that will help you turn a small room into a cozy and beautiful space.
1. Colors for the Bedroom – Tenderness and Lightness
We are all familiar with a simple but effective technique for visually enlarging rooms – for this you just need to paint the walls white. But if you want more color in the bedroom, then it is better to opt for pastel shades: this way the room will also look lighter and more spacious.
2. Floors: Lay Diagonally
It is better to take this point into consideration at the design stage. In a small bedroom, the floor should be light, just like the walls. Choose parquet or laminate in light shades. A life hack: for a small bedroom, choose a small parquet board and lay it diagonally: this will visually make the room larger.
3. Furniture That Does Not Weigh Down the Interior
For furniture in a small bedroom, the same rule applies as it is for walls and floors: it should not be dark. Another important condition is to choose items with thin legs and without excessive décor. Transparent or mirrored furniture is also ideal.
And don't worry: you don't have to give up bulky furniture, just do not add too much of it! It is better to give up two small chairs in favor of one large one, and not take up space with small items like coffee tables. You can check Nyfurnitureoutlets for the most exquisite modern options that will turn your bedroom into a small piece of heaven.
4. Mirrors – Extra Light and Space
Discard prejudices and add mirrors to the bedroom interior – they will make the room not only larger, but also brighter, especially if you hang them in front of the window.
Large mirrored wardrobe doors are a good solution. But if this option seems too extreme to you, you can get by with a few small mirrors – any model will do, except mirrors in massive frames.
5. Storage: Looking For an Alternative to Wardrobe
A wardrobe is not the only way to organize storage space. Opt for pieces of furniture with a storage function: it can be a bed, an ottoman or a pouf.
Another interesting solution is the podium bed. As it has built-in drawers they can be very convenient to store off-season items and bedding.
6. Adding More Light to a Small Bedroom
Take lighting in a small bedroom seriously. Remember that three levels of lighting – upper (ceiling lamp), middle (spot lighting, sconces and table lamps) and floor (floor lamps) – should not be turned on at the same time in order to maintain an atmosphere of softness and comfort in the room.
Do not forget about natural light, it should also be enough. Tip: do not use blackout curtains in your bedroom. But curtains made of light translucent fabric will diffuse light and make the room spacious and bright.
7. Don't Forget the Door
In the design of a small bedroom, always pay attention to the door. An excellent solution is to make the doors match the flooring, but the door painted in the color of the walls looks no worse.
If in doubt, white doors are a safe bet: they will look harmonious in any interior. By the way, to save space, install a sliding door and hide the mechanism in the wall.
8. A Solution With Stripes
If your bedroom has too low ceilings, nothing will lift them better than vertical stripes on the walls. Horizontal stripes will help make the room longer. And you don't have to live in a completely striped room, it would be madness – you only need to use one wall to achieve the desired effect.
9. Décor of a Small Bedroom – A Choice in Favor of Moderation
When decorating a small bedroom, don't overdo it. Your motto is "less is great." After all, the more details and small items are in the bedroom, the worse it will look. The ideal solution is to put all accessories in decorative boxes or containers.
10. Bed Linen Is Also a Décor
Don't leave the choice of bedding for later – this is just as important a part of the bedroom décor as mirrors or lamps. Now in stores, you can find bedding of a variety of colors, textures and materials, but if you are lost in this variety, then trust the classics – white bedding suits any interior.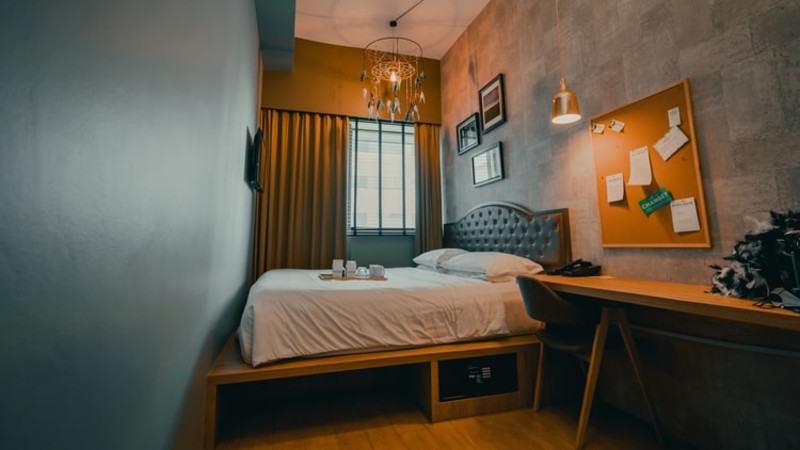 Expert Opinion
Should there be appliances in the bedroom? There are many debates on this topic among both users and experts of all kinds. Psychologists often do not recommend having a TV in your bedroom. But everything is cool in moderation as we paraphrase a common quote. If it makes your life more comfortable, then why not. How to make a room modern and comfortable enough to rest, we will tell you together with our tech experts.
1. Not a Boring Evening
Good old movies, favorite romantic comedies or new TV shows are a great way to switch from everyday worries and "unload your head" before bed. Just connect an interactive TV, select a movie on one of the hundreds of channels available today or in the Video on Demand video library and enjoy watching in excellent quality.
2. Take a Walk Down Memory Lane
A regular TV in the bedroom is nice, but this does not sound very modern. The TV box will squeeze much more out of your equipment and turn it into a real multimedia entertainment center. The TV will not only broadcast TV programs but will also allow you to watch your own favorite photos and videos on a wide screen or listen to your favorite music with clear and spacious sound.
3. With a Tablet in Hand
If you are the type of person who likes to lie in bed with a tablet or smartphone before going to bed to check your friend's feed, surf the sites or watch new music videos, you can not live without Home Internet. This is a guaranteed super speed not only on the computer, but also on all wireless devices over Wi-Fi.
What's important: wires always spoil the interior of the bedroom. It is best to prepare for connecting digital television and home Internet at the renovation stage: provide a place for an optical Wi-Fi modem with a 220 V outlet and lay a hidden UTP cat5 cable from it to the TV. What to do if the renovation was finished? The TV can be connected to your home Internet network via a PLC adapter.
Note! However, we have been talking about decorating a bedroom for adults, because it is actually highly not recommended to install a TV in a kids bedroom. Children who have a television in their room spend less time sleeping while having a strict sleeping schedule is very important for a growing human. Too many distractions in the bedroom can mean greater problems for children. It stands to reason that most parents are not fully aware of the consequences so it is always useful to learn more on the topic before making a final decision.