Disclosure: This post may contain affiliate links, meaning we get a commission if you decide to make a purchase through our links, at no cost to you. Please read our disclosure for more info.
Your bedroom should be your personal haven, where you can relax and recharge your batteries at the end of a day. Here, you can get a good night's sleep, daydream, or read your favorite book wrapped up in a cozy and fluffy blanket. However, creating a perfect bedroom doesn't just mean having stylish and modern décor, but also creating a healthy environment. By detoxing your sanctuary, not only will you be able to take a breath of fresh air, but also get enough quality sleep and rest to make your dreams become a reality.
1. Bare Floors for a Trendy and Healthy Look
Although carpets and area rugs can be stylish accessories, they are home to many allergens and harmful substances, such as Volatile Organic Compounds (VOCs) and other toxins. Even if you clean them regularly and meticulously, you can never completely eradicate the hazards, which can significantly reduce indoor air quality and cause health issues in individuals sensitives to allergies or those suffering from asthma. Therefore, you should completely remove carpets and area rugs from your bedroom. After all, bare hardwood floors will be both healthier and more stylish.
2. Clean Organic Linens and Pillows for a Healthy Bedroom
Not only are bed linens and pillows full of dust and mites, but chances are they are made of non-organic cotton, which is usually sprayed with harmful chemical fertilizers and pesticides. It goes without saying that such substances aren't beneficial for our health. Another material often used for sheets is polyester, which can also emit chemicals. To detox your bedroom, you should replace your sheets with those made of 100% organic cotton, silk or bamboo, and wash them on a regular basis to get rid of allergens.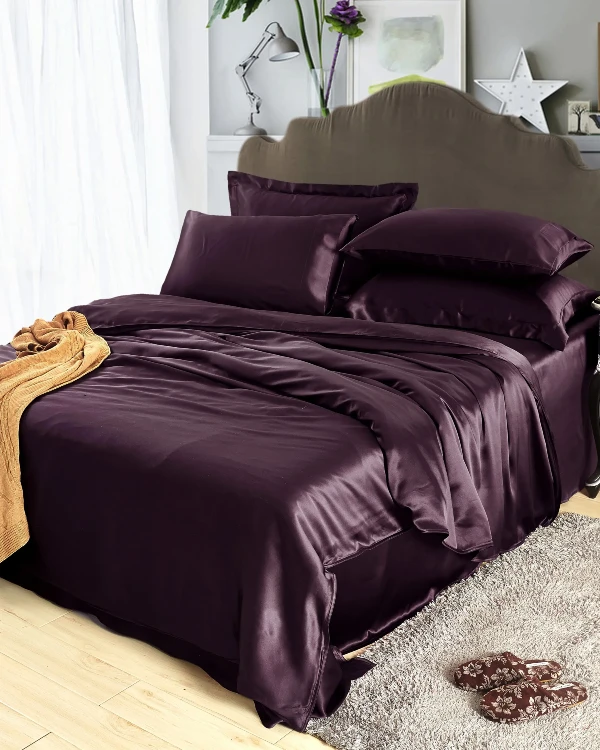 3. Healthy Paint for Style
Another hidden source of toxins in your bedroom is paint, which can reduce your air quality by emitting concentrations of VOCs. Prolonged exposure to such chemicals can cause breathing problems, eye irritations, hormone imbalance and other issues. Therefore, you should consider repainting your bedroom with VOC-free or organic and biodegradable paint. Additionally, this a great opportunity to bring in a sense of novelty and freshness.
4. Soy and Beeswax Candles for Ambiance and Health
Candles are always a great way to create an intimate and romantic atmosphere in your bedroom, but they are also a major source of indoor air pollution due to the harmful chemicals they produce. However, you can still have both the charm of flickering candles and a healthy environment. Candles made of soy and beeswax are completely safe and eco-friendly, yet aromatic and romantic.
5. Fresh Air for a Healthy Life
Air indoors can be even more polluted than outdoors, due to a high level of pollutants that we might not even be aware of. The easiest and most efficient solution is adding an air purifier to your bedroom. To minimize exposure to allergens, you can look for the best air purifiers for allergies and mold issues that will eradicate mites and dust from your bedroom. In addition, you should consider introducing houseplants to your room. Not only will they be stylish accessories, they will also purify your air by absorbing toxins and producing oxygen.
6. A Hypoallergenic Mattress for a Good Night's Sleep
Made from synthetic materials, mattresses are fraught with toxins, such as flame retardants and allergens, including dust and mites. Apart from causing health issues, synthetic fibres can interfere with sleep, by disrupting the thermoregulation of your body. However, there's an easy, yet efficient solution – buy a new mattress made of organic cotton, wool, or natural latex. However, if you can't afford it at the moment, you can cover your mattress with a cotton casing that will minimise the exposure to allergens and chemicals.
By detoxing your bedroom, you will create your very own oasis of health where you can unwind and escape from the hustle and bustle of the everyday world. With just a few simple steps, you can quickly transform your bedroom into a healthy and stylish environment.