Disclosure: This post may contain affiliate links, meaning we get a commission if you decide to make a purchase through our links, at no cost to you. Please read our disclosure for more info.
Your bedroom is the place where you rest and recharge a long day of work therefore you would love that place to be a retreat. Most people are also aware of the fact that their emotional comfort is influenced by the room's ambiance. Therefore most people give in their heart and soul to design their bedroom. Though the use of the bedroom is quite simple where people come in and rest and might have very few accessories in it that might include a bed, a dresser, and maybe some sitting arrangements. But it is their alignment and placement with a few mindful touch ups that make your bedroom more soothing and welcoming. A place that invites you to rest and forget the daily hiccups at your workplace.
Apart from resting a bedroom also in some way reflects your personality. Therefore they must be designed and showered with all those accessories that might just be remotely reflecting what kind of personality trait you carry. Therefore there must be detailed planning on how you would design your bedroom. Beginning with the number of the person that would be occupying the bedroom (ie you and your partner and your pets maybe). The actual size of the bedroom, then you might move on to the type of bed that you would be using what would be the actual size of the mattress. The size and quality of the mattress are of utmost importance in the bedroom as the real purpose of the bedroom is just to sleep.
The Mattress Size and Quality
There are different mattress sizes that you can throw into comparison while identifying the perfect mattress size. One such comparison between california king vs queen size mattress. Queens size mattress is one of the most popular choices of mattress among single sleepers as they give you more room to stretch, measuring at 60 inches by 80 inches it is preferred by the couple who want to sleep more cozily. Whereas the California mattress is considered ideal for couples measuring 72 inches by 84 inches. They are one of the largest mattresses that are available in the market. They offer more space for the couple and their kids or pets if they too want to join them in their bed.
If you are designing the bedroom for your single teenager or your single kid then you must make a comparative analysis between twin vs full mattress. Measuring 38 inches by 75 inches the twin mattress can accommodate kids or a growing teenager whereas a full-size mattress measures 54 inches by 75 inches that might just be perfect for a teenager with space to accommodate a child.
Naturepedic Sale! 15% OFF all Mattresses + Free Pillow for Kid and Adult
Throw Blanket
After deciding on the type of mattress that you like to rest on. You can add a colorful throw blanket (Small size blankets about 50 to 60 inches) to add some color contrast to the bedroom set. You can keep in an at the foot of your bed and can warm your feet during chili nights or wrap around your shoulder while watching the TV.
Toss Pillows
The idea is to mix and match the color pattern of your bed. Add not more than three pillows and choose a color pattern that contrasts with your bedding while trying other accessories in the bedroom.
Lighting Impact
Lighting can have a deep and direct impact on the aesthetics of your bedroom. There might be several sources of light in your bedroom, but the lighting must also be an impactful one. A Small chandelier or a decorative or animal figure bedside lamp with a unique design or some vintage lighting case illuminating the painting at your headstand. There must be one lighting impact that complements the overall design of your bedroom.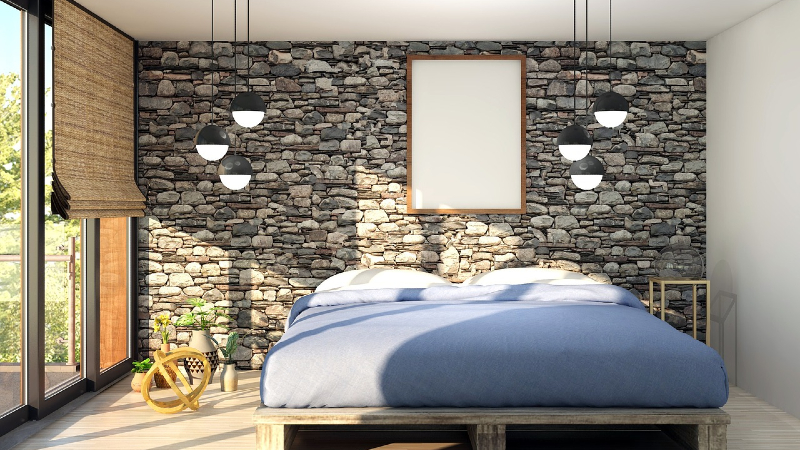 Artwork
Be it a colorful throw blanket or vintage lighting set nothing compliments more to your bedroom than a beautiful headstand artwork. It can be a framed print or a real painting, other options might also include ornate mirrors, architectural interior design, enlarged family or individual photos, or tapestries. They must cover at least half the width of the bed to give in an impactful look.
Area Rugs
Rugs are also an important contrast to the magnificence of your bedroom. They add another layer of color to the bedroom. While carving out a rug make sure that at least two-thirds of the bed is on top of the rug. You can also choose a rug at the foot of the bed or side or along the side of the mattress.
Houseplants
Houseplants add liveness and color to your bedroom setting. They also help purify the air and add a touch of nature amidst the hustle and bustle of your urban life. It kind of brings stability and serenity and calmness to your busy and hectic life. Stick with easy choices as evergreen or pothos.
Innovate
You can also innovate in your way to make your bedroom more interesting by letting in a built-in bookcase complement to a comfortable chair with a footrest. Or you can also put in an innovative dresser that compliments your bedroom design.
Accessories make your bedroom look great but what is more important is the choice of the mattress. After making proper decisions only then you must go for the purchase of the mattress you want. After proper clarifications and queries, you can finally initiate the sales process to buy the mattress of your choice.
Conclusion
A bedroom is one of the most spacious rooms in your house that indeed reflects your personality. You need to be innovative and plan meticulously to achieve the bedroom of your dreams. Though the above mentioned are some of the most important accessories that would complete your bedroom. There are also some areas where you can give in your personal touch to your desired bedroom. These might just be some framed family photos of a vacation or something that you have collected or earned over the years that have impacted your life in one way or another.