Disclosure: This post may contain affiliate links, meaning we get a commission if you decide to make a purchase through our links, at no cost to you. Please read our disclosure for more info.
Essay writing requires peace, quiet, and a steady mind. Students may have, under normal circumstances, access to libraries, study rooms, and other facilities. But now, we're faced with working from home a lot. Confinement and isolation are terrible for our mental health and our grades. So here's how to make the perfect space at home for an essay writer and deep thinker.
The Furniture
When you decide that it's time to write my essay, you're going to need the correct setup; in the simplest terms, that is a desk, a chair, and a light source.
Furniture can make or break a room – and when it comes to the ergonomics of desk work, it could break your back too. Maybe that's a little hyperbolic; however, poor posture injuries are not something to take lightly.
Repetitive strain injuries, sciatica, neck, and eye strain can haunt you for a long time. Avoiding these types of injuries means inculcating in yourself proper working habits. We may like to write in bed, though it's not sustainable for most of us in the long term.
Occupational therapists have set out several rules for proper alignment of our bodies when working at a desk. The rules go like this; your monitor should be an arm's length away from your eyes. Your wrists should be straight with your hands below, or level with your elbows. Your chair height should put your knees about the level of your hips.
With that in mind, it's time to bust out the tape measure and compare your ergonomics to that gorgeous desk you've found.
If you've already got your furniture and it isn't quite right according to guidelines, don't fret. You can alter your position by using a wrist bar – which helps prevent RSIs from occurring. You can also use a footrest – make it something sturdy and level underneath your feet.
If you've got the time and resources, an excellent project for mind and soul is to build a writing desk. There are copious amounts of designs online with everything from industrial chic to minimal lines.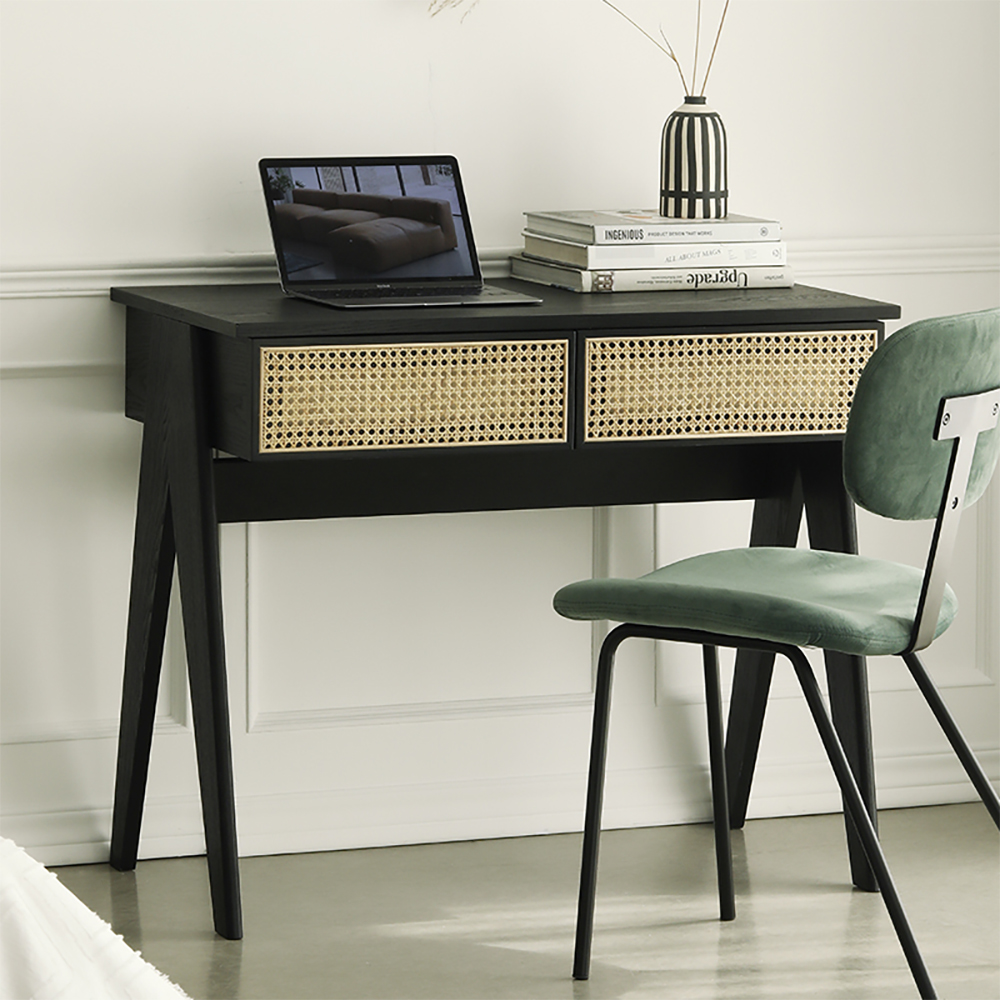 The Lighting
Light is essential for a proper ambiance. Everyone likes different lighting set-ups. Whether you're into a single lamp illuminating your desk or prefer something a little more bright and clear, make sure you have back-up bulbs and fuses so you can maintain your space.
Lighting also brings with it the necessary corollary of power. Chances are you're not working on a typewriter or by hand. Orienting your writing room so there is a suitable power source – either a plug or a well-placed extension cord – will mean you spend less time running to find the charger and more time refining those well-wrought sentences.
The Side Office
Much like a side-hustle, the side-office is a doubling up of your resources. It's that little bit in your cramped apartment that has had multiple purposes over lockdown, acting as an office, a bedroom, a kitchen, or a living room. We don't all have the luxury of a spare room to devote to our dream writing room.
If this is the case for you, it may be that you're sharing this writers workspace with another person – who may or may not be working too. When we have to share our working area, it is essential to maintain order and cleanliness.
When it comes to the feng shui of a shared writing space, accept that the first configuration may not work, and be willing to compromise over the solution. Think whether you'd prefer to hide away or embrace sharing a workspace with your roommate.
Insulating your mind while using shared writing spaces is worth considering too. Noise-canceling headphones are fantastic, though expensive if you're looking for a quality pair. A good pair of regular over-the-ear headphones can transport you from your shared space to an individual domain where you find synchronicity with the words and ideas.
White noise, binaural beats, even those lo-fi hip hop mixes sound much better through some headphones than your tiny laptop speaker. 'Headphones On' also signals to your co-worker-room-mate hybrid that now is not the time for a funny video session.
Don't Ask, Don't Get, Talk to Your Landlord
Pre-pandemic essay writing was a bit of a luxury. Necessity has bitten through the sometimes tricky practicalities. Trying to live, work, and play all in the confines of our homes has led to disagreements as well as new found loves. Making the right kind of space from the get-go is not only excellent for writing essays but also for coming up with new ideas.
This re-orientation of our focus, working remotely and not going out as much, means we can hopefully afford to make our personal-professional spaces a little nicer and a little more to our tastes. So get in touch with your landlord, ask to paint the walls, put up those shelves, and install a new set of power outlets. You deserve it!