Disclosure: This post may contain affiliate links, meaning we get a commission if you decide to make a purchase through our links, at no cost to you. Please read our disclosure for more info.
Even after finding your passion and starting your dream job at home, it can be difficult to find motivation some days. Yet with a beautifully furnished office, you wouldn't mind rolling up your sleeves and getting to work. When your office space is designed with your preference, you're motivated to work and tidy the office.
Even though many office decor ideas aren't one size fits all, it's not impossible to find perfect ideas. Here are some awesome ideas to consider for your space.
Stay Organized
Home offices can get messy really fast. It's so tempting to fall into the habit of stocking up drawers and organizational bins. There are lots of options to help you stay organized in the market.
Before you start shopping for your drawers and cabinets, take your time to think about your organizational needs. Try to find something that works well with the rest of the house.
While so many things can seem crucial in the market, avoid buying unnecessary stuff. For instance, if you use a digital filing system, there is no need to buy cabinets if you aren't sure that you'll use them.
Don't get carried away by the office organization hype. It's okay to personalize your office based on your needs. Remember to customize your office with long term goals in mind. It's also easier to organize your office when it's spacious.
Think Big
Even with a small space, there are so many office decor ideas that you can still employ to customize your office. Maximize your vertical space by hanging a painting, installing cabinets on the walls, or opting for floating shelves.
When decorating an office, the wall is a great asset. Don't be scared of playing with ideas on what you hang.
Don't forget that your home office is just yours. Add anything that drives you to the road of productivity.
Cut Cord Clutter
One of the cons of technology is the cords that come with gadgets. Your computer and printer are crucial, but it doesn't mean that you've got to see the wires all the time. Find an attractive box and make a hole at the back to put your devices and router behind the boxes.
You can also mount a power strip on the back or underneath the office desk. Use command hooks and cable ties to wrangle the cords that get plunged to the power strip. Place them behind the furniture where they can't be seen.
This hack alone can make a huge difference. Your office will be neat, and it will feel so great when those cords are out of sight.
Have Sufficient Lighting
Offices are known for dull lighting options. They often have sterile lights that make you feel like you're under a microscope. You strain your eyes on screens all day, don't worsen the situation by having poor lighting in your home office.
Maximize natural light but supplement it when it falls short. Give your lighting an edgy appeal by adding quirky lamps and LED string lights.
An office with proper lighting is a happy office.
Make Your Office Feel Like Home
Your home office should be comforting and comfortable like home. You can get some of your office decor ideas from your house. For instance, you can use the same color schemes you use in other rooms that you enjoy.
You can also add photos of your family and friends, as well as any other sentimental reminders. Add a cozy throw and plush rug for some added comfort.
Invest in Office Gadgets
Whether it's communicating with customers, advertising your products, or doing your research, you'll require a reliable gadget. Most entrepreneurs, business owners, and remote workers turn into techies whether they plan to or not. There are a few electronics and technological devices that will make your work day more convenient.
Most people already have smartphones, but a few other things to check out are desktop, monitors, printers, and laptops. Apple MacBooks happens to be a favorite for lots of creatives.
Consider checking out this site: https://setapp.com/lifestyle/best-browser-for-mac so you can learn about the best browser for mac! This will help you make the most out of your new device.
Bring in the Outdoors
Nature has a special impact on everyone's mood and productivity. It would really make a difference if you'd be able to incorporate outdoors in your home office. If possible, make windows an integral part of your home design.
Choose non-intrusive blinds and align your desk below the windowsill. Add some greenery to bring your office to life too. Scatter colorful plants, such as succulents, around the room. You can even cut costs by mixing in some faux plants.
Add a Splash of Color
One tip to ensure your office isn't a snooze is to add a bold color while leaving the rest neutral. This makes it a happy place for a creative artist.
For example, you can go with white and have your office desk painted red. It also gives it a minimalistic touch.
Choose the Right Office Desk
Most people don't think before purchasing that the wrong choice of an office desk can affect your productivity. If there's not enough room or if it's too low, you could be uncomfortable every day. Choosing the right desk might sound like an easy task, but once you get to it, it can be overwhelming.
Consider the overall design and the type of tasks you'll be doing to help you choose a desk. Consider a standing desk or maybe a corner fit desk. Be sure to choose a chair that is comfortable to avoid any backache problems.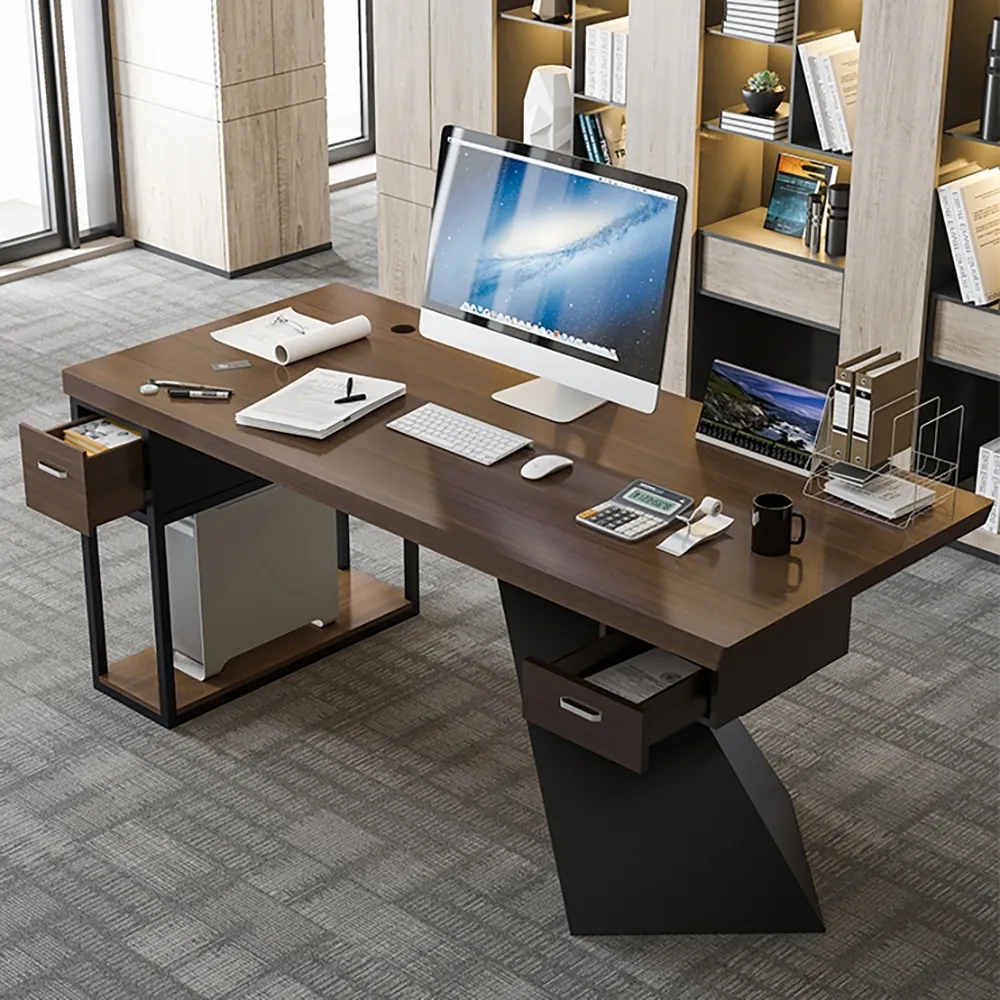 Do You Want More Office Decor Ideas?
A home office is like a sanctuary where you manufacture your dreams. This is true whether you're in the corporate world or self-employed. Therefore, the space should represent what you stand for and what you love.
Avoid getting carried away by office decor ideas that don't genuinely speak to you. This is a space that should be infused with your personality and some added functionality.
For more tips and ideas, visit our blog.